Analyst: All touch BlackBerry 10 model to launch in March with QWERTY version due in June
19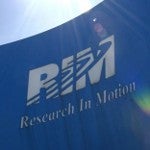 A wealth management and institutional brokerage firm named
Detwiler Fenton
has issued a bearish report on RIM. That means that it is a negative report and the firm expects RIM's share price to drop. According to the report, while the Canadian based handset manufacturer
will introduce the new OS on January 30th
, the first touch screen models will available in March. It won't be until June when the first BB10 handsets with a physical QWERTY will be ready.
400,000
BB10 units shipping in the February quarter with
2.2 million to 2.5 million
shipping out in the next quarter.
The delayed QWERTY devices are a problem for RIM, according to the firm, because it doesn't see too many upgrades from older legacy devices to full touch screen models. Detwiler Fenton is "skeptical" about RIM's chances for success because of the competition from Samsung, Apple and Microsoft and says that developers have
limited interest
in the platform, ranking it fourth among the major ecosystems.
RIM's response? "
Details of the commercial availability for BlackBerry 10 will be announced at the global launch events on January 30. Our executives have made it clear that the touch screen device will be available shortly after launch with the physical keyboard version to follow shortly after that
."
source:
Forbes