Amazon may drop a 6-inch tablet at a $50 price point this fall
6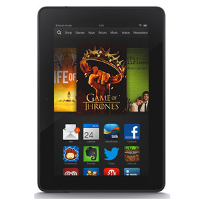 Amazon's tablet endeavors thus far have been considerably more fruitful than
its smartphone efforts
. The Kindle Fire range is renowned for strong features at a very reasonable price point, and according to
The Wall Street Journal
, things are about to get even cheaper. Per the WSJ's coverage, a new slate headed this fall will include a 6-inch display, and while other details are scarce for now, it'll apparently hit the market at just $50.
The current
Fire HD 6
tablet hovers at around the $100 mark, but for $50, Amazon could really swarm the market for those seeking a very basic experience. Even though the specs haven't emerged as yet, there's little question that corners will have to be cut in order to achieve the price point, and so the chances of a full-HD display or even respectable processing power seem slim-to-none.
It's probable that the device will include a low-resolution display, few perks, and a lower-end SoC to keep things ticking along. Still, we all know those people who own an iPad or a high-spec Android tab purely to play Sudoku, browse the Web or check emails, and for $50, even a bare-bones effort from Amazon should manage that and more.
Away from entry-level fodder, Amazon could also be readying an 8-inch and 10-inch tablet, suggesting that the retail giant is still keen to push hardware despite the
well-documented shortcomings
of the
Fire Phone
.