Mozilla ditches plans to launch a $25 smartphone, might bring Android apps to Firefox OS
10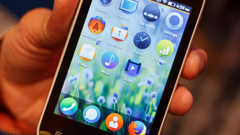 Over a year ago,
Mozilla announced
plans to launch
a $25 Firefox OS-based smartphone
before the end of 2014, starting in markets like India and Indonesia. The $25 prototype device that Mozilla showcased last year (pictured on the left) had a 3.5-inch display with 320 x 480 pixels, Wi-Fi, a 1 GHz single core Spreadtrum SC8621 processor, and a 2 MP rear camera. The handset hasn't been released anywhere yet, and it turns out that it's never going to be commercially available.
CNET got hold of an e-mail from Mozilla CEO Chris Beard to employees, according to which the company hasn't "seen sufficient traction for a $25 phone," and won't "pursue all parts of the program." Even so, Firefox OS remains an important part of Mozilla's mobile strategy, and the company is now planning to make "phones and connected devices that people want to buy because of the experience, not simply the price." In other words, Mozilla will focus on improving Firefox OS, rather than trying to make the cheapest handset possible.
One of the things that could make Firefox OS more attractive to end users is: access to more apps. And Mozilla is actually thinking about "implementing Android app compatibility," though only "key apps" might be included.
All in all, Mozilla remains committed to "aggressively invest in the Firefox OS opportunity." Thus, although the company won't release any $25 smartphones, we will certainly see new Firefox OS handsets in the future.
source:
CNET
via
The Verge