Amazon drops lock screen ads from its Prime Exclusive phones starting tomorrow
6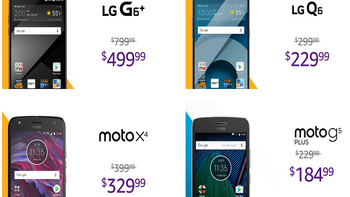 Consumers looking for a deal on a smartphone have been able to save anywhere from $25 to $100 off the retail price by buying them from Amazon, as long as they didn't mind being forced to watch lock screen ads. Starting tomorrow, February 7th, Amazon is no longer forcing these ads on Prime Exclusive buyers. And those who already own a Prime Exclusive model will receive a software update that removes the ads from their phones. While the ads are gone, new Prime Exclusive models will still come with pre-installed apps from Amazon.
Future Amazon Prime Exclusive handsets will be available only to those who have signed up for membership to Prime, and will be sold unlocked. A single sign-in will allow users to log in to Amazon apps like Prime Video, Prime Music and Prime Photos. But there will be a price to pay for the removal of the lock screen ads. Prices for the current lineup of Prime Exclusive handsets will rise by $20 starting tomorrow, according to multiple reports.
In a statement, Amazon said that it was removing the lock screen ads so that users of Prime Exclusive models can use current technologies to unlock their handsets. Amazon is referring to fingerprint scanners and newer facial recognition systems.
"As smartphone technology has evolved, we also want to evolve the Prime Exclusive Phone experience to ensure customers can easily use features such as the phone's mobile unlock technologies like facial recognition and fingerprint sensors, as well as be able to personalize device lockscreens with photos or wallpapers."-Amazon
The current Amazon Prime Exclusive lineup includes:
Remember, the above prices are expected to rise by $20 starting tomorrow.
source: Amazon via Phonescoop