Amazon changes its mind on encryption; update this spring will bring back protection on Fire tablets
7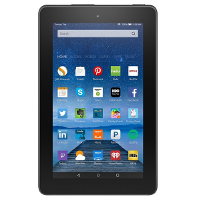 One day after admitting that it
had dropped support for encryption on its Android tablets
with the update to Fire OS 5, Amazon said that it will offer an update this spring that will return encryption to the same devices. The company said on Thursday that its customers were not using the feature, which is why it dropped support for it.
At any other time, the original decision might have stuck. But thanks to Apple's high profile decision not to build a "unique" version of iOS to help the FBI obtain information from an encrypted iPhone, there is now more awareness about security on mobile devices. Without encryption, an Amazon Fire tablet owner could find that content saved to his/her slate, including private data, could be stolen by some one who takes possession of the tablet.
Dropping encryption from the Amazon Fire tablets didn't seem like a great idea after all, and it took Amazon all of one day to figure that out. As we said, it was an update to Fire OS 5 that removed the support for encryption from the Fire Tablets, which run on a forked version of Android; the latter does not support Google Play services.
Now that Amazon has flipped 180 degrees in just 24 hours, the company's support for Apple seems plausible. Before changing its position on encrypting the Fire tablets, it just didn't seem to make sense for Amazon to end encryption on its slates, while at the same time backing Apple's decision not to unlock a terrorist's
Apple iPhone 5c
.
If you own an Amazon Fire tablet, your private data will become secure again following the next software update this spring. Until then, you might want to make sure that nothing of importance is left on your slate.
source:
Engadget