Amazon Kindle Fire HD vs Google Nexus 7: who's who in the Android tablet market
37
This article may contain personal views and opinion from the author.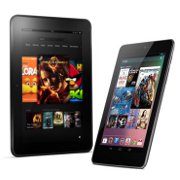 Well, well, well, now that's interesting!
Amazon has just unveiled its new tablet, the Kindle Fire HD
! Ta-daa, now, we wonder if it has what it takes to compete with its impressively tough opponent, the
Google Nexus 7
...
You know, ever since Google introduced the Nexus 7, the Kindle Fire and its $199 price-tag stopped being such a big deal. Of course, that's completely understandable, having in mind that the Nexus 7 is a full-featured tablet with a quad-core processor and all the bells and whistles one would expect from a modern tablet. And it too is available for $199. The original Kindle Fire, on the other hand, is a somewhat more specialized, limited device, tightly integrated with Amazon's content ecosphere. With both devices going for $199, it doesn't take a genius to know that users will prefer to purchase the more powerful tablet, which also comes with the full Google experience and latest Android version.
But the times, they are a-changin'. One day you're on top, the other... not so much. And the original Kindle Fire is still commanding some 20+% of the Android tablet market. That's because Amazon has this giant retail reach, and Google, well, let's just say that Google isn't that's good at retail. But a fact is a fact - the Nexus 7 is the better device when compared to the Kindle Fire. Amazon isn't dumb, though. It knows its strengths and weaknesses. So, what can the new Amazon Kindle Fire HD models do for the company now, will they be what Amazon needs to beat the Nexus 7?
Although Google isn't really well positioned as far as retail goes, it's still in the position of 'the people's champion'. That's why we belive that it will be very hard for Amazon to preserve its significant lead in the market. And although its lead may not remain as big, the Kindle Fire HDs are a good reason to believe that Amazon will at least remain a prominent player.
Amazon has just announced some very cool devices. It will start offering an
upgraded version of the original Kindle Fire for $159
, and it will later add a 7" Kindle Fire HD, and an 8.9" Kindle Fire HD, with the first one offered for $199, and the latter for $299, which isn't really mind-blowing. Finally, there's the 4G LTE version of the 8.9" model, will which will sport 32GB storage (the other models will have 16GB), and will sell for $499, as much as a 16GB iPad Wi-Fi. Well, the prices may not be as shocking as the $199 price-tag of the original Kindle Fire once was, but they sure beat the competition. Yeah, the Nexus 7 has hardware that's about as good, and a better, more feature-rich software experience, but don't forget that its $199 version only features 8GB of internal storage, and the 16GB is $249. So, in terms of specs, it's relatively safe to say that the Kindle Fire HD is a step ahead of Google's offering, but when it comes to software, well, we're sure that one can have a much better experience with stock Jelly Bean, compared to the Kindle's custom carousel UI. As a mattery of fact, we still don't know exactly what Android version will the software on the Fire HD be based on, but we presume it will be Android 4.0 ICS.
What matters, though, is if that "full Android experience" will be important for the regular consumer. And the answer is probably 'no'. With its enormous retail reach, Amazon will easily put the Kindle Fire HD front and center, offering it to all kinds of customers visiting its ecosystem. The Nexus 7? It'll probably remain more of a geek product. Actually, making geek-products is something that Google can't seem to escape from, and that's a bit sad, because the company has the potential to achieve great things in the hardware business as well. Anyway, these two companies have walked different roads, and have extremely different ways of doing business (although they both happen to sell tablets, among other things). Right now, Amazon seems to prove that it takes more than just a great product to be successful in the market. It's a lesson that Google will hopefully learn, but it's not yet clear exactly when this is going to happen.