New Amazon Kindle Fire is here: $159, more bang for the buck
9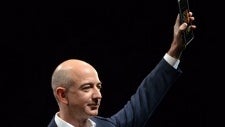 The
new Amazon Kindle Fire
has just arrived and it's virtually upgraded, snappier hardware in pretty much the same plastic wrapper for a noticeably cheaper price of only $159.
The Kindle Fire retains the 7-inch screen but with the slashed price comes a better processor, 1GB, or twice as much RAM memory and overall a 40% faster performance. The new Fire tablet will also come with a larger battery that lasts longer.
One of the best things about the new Amazon 7-incher is the fact that you can order yours today and expect to have it shipped on September 14th, in just two weeks.
Unlike the two new Kindle Fire HD models, this one has no front-facing camera or HDMI output.
Images courtesy of TheVerge.