Amazon announces the Kindle Fire HD
28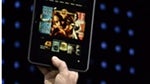 Amazon seems to be pulling out all the stops today, as they just followed up their announcement of the Kindle Fire 2 with a new premium device, the Kindle Fire HD. Saying
they wanted to create "the best tablet at any price"
Amazon showed off Kindle Fire HD models with 7" and 8.9" HD displays with a 1920 x 1200 resolution. For those of you who are into pixel density,
that translates to 254 ppi
. The screen utilizes In-Plane Switching and an "Advanced True Wide Polarizing Filter" that Amazon claims will give you true color reproduction from all angles.
Backing up that screen will be a Texas Instruments OMAP 4470 processor, which Amazon says compares favorably to Tegra 3 powered devices (a reference to the Nexus 7 we imagine). Sound hasn't been neglected either, as they are employing Dolby Digital Plus, which is currently an exclusive to the Fire HD.
Of course with great HD content comes great HD responsibility - Jeff Bezos (Amazon's CEO) is emphasizing the importance of storage and Wi-Fi performance to digital content. Poking fun at the entry-level cloud-based Nexus 7, Bezos claims that an 8GB tablet made for HD content is "dead on arrival". The Kindle Fire starts at 16 GB, although that won't hold a ton of HD movies either we suspect.
Perhaps more important to the end user are the connectivity features packed in
; The Kindle Fire HD comes with dual Wi-Fi antennas and MEMO, a computational system to improve Wi-Fi signals in cities or other areas that see lots of reflections. MEMO actually calculates out the reflections from the main signal and then adds them back in to replace gaps in the data stream.
Amazon says the Fire HD is the first tablet to incorporate MEMO processing
. And if that's too slow you can grab the 4G LTE model.
The 7" Kindle Fire HD starts at $199 and ships September 14th, while the 8.9" model starts at $299 and ships November 20th (including the LTE model). Of course Amazon is happy to let you pre-order them all today. There 32GB 8.9" version that comes equipped with 4G LTE is priced at a very competitive $499, but
perhaps the best part is that there will be no data plan needed for the LTE model
- Amazon will sell you 250 MB a month of data, 200GB of cloud storage, and a $10 Amazon credit for $49.99 a year.
source: Amazon via
The Verge