Amazing Cupid for Android is a Flappy Bird clone with Snapchat-like features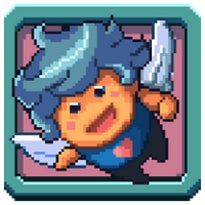 Developer
Dong Nguyen took his addictive title, Flappy Bird, down, because "it ruined his simple life"
, but the concept behind the hate-it-or-love-it game continues to live on within a plethora of various duplicates. One of these, Amazing Cupid, doesn't shine among the others with improved gameplay or enhanced graphics, but with another rather interesting feature. Amazing Cupid is, in fact, a Flappy Bird clone with a twist – it has Snapchat-like capabilities.
The idea behind Amazing Cupid is quite simple – you send someone a message, but they won't be able to read it unless they achieve a certain score in the game. To make things worse, the recipient has limited time before the message expires. If the required high score is not reached, the message is lost forever.
As you might have already guessed, the protagonist of this Flappy Bird double is a flying cupid. The gameplay is completely identical (read: annoying) to the Flappy Bird one, so you'd still have to tap and avoid the columns. However, Amazing Cupid comes with an adjustable difficulty – ''Normal'' for starters, ''Hard' for those Flappy Bird veterans, who have scored more than 30 points in a single game, and ''IMPOSSIBRO'', which is aimed at those, who want to smash their phone into the wall.
Amazing Cupid is developed by TouchTen, and the CEO of the company, Anton Soeharyo, states that he got permission from Dong Nguyen to make use of Flappy Bird's addictive concept.
"I feel for Dong. He is overwhelmed. I was surprised that he was really friendly to me even though we hadn't met before. It turns out that he's a good guy and a good person,"
the developer of Amazing Cupid admits.
"He mentioned on Twitter that he's coming to Jakarta, so I hope to see him. I don't want to force him, but if he wants to then maybe we can work on something together."
Amazing Cupid is free-to-play and is only available for Android devices at the moment, but the iOS version should land on iTunes very soon.
Be sure to check out
our pick for some of the more interesting Flappy Bird knock-offs
, too.
Download: Amazing Cupid (
Android
)
via:
TechCrunch