Alleged iPhone 7 and 7 Plus specs sheet suggests better cameras and battery life
34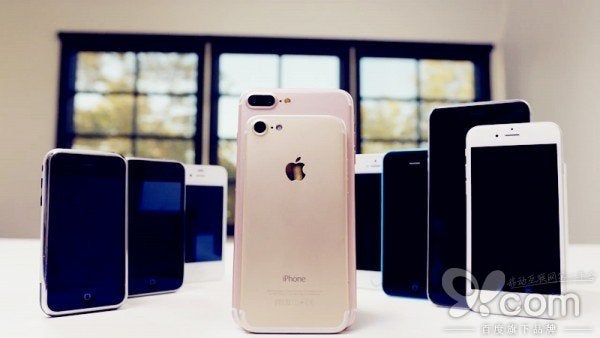 A leaked specs sheet of the upcoming
Apple iPhone 7
and
7 Plus
suggests that there will be quite a bit of changes under the hood, if not in the design. It seems that we will be keeping the same screen sizes of 4.7" and 5.5" diagonals, with the same resolutions as on the
iPhone 6
and
6s
, indicating similar dimensions.
Where things get interesting, though, is the hardware upgrades, and there are some itty-bitty details here in this sheet that seem like a welcome surprise. The Apple iPhone iPhone 7 and 7 Plus will allegedly feature an
Apple A10
processor, built on the 16nm Fin FET production process of TSMC. This one doesn't come as much of a surprise, as the 10nm processes of the TSMC or Samsung foundries will likely be ready for mass production next year.
Judging from
preliminary benchmarks
, the A10 offers about 20-30% jump in performance, compared to the A9 in the iPhone 6s, which doesn't seem like much, as the jump from A8 to A9 was something like 50%. Still, Apple may have rightfully concluded that the chip is powerful enough as it is, and might have focused on power consumption and chip footprint reductions, introducing a
novel "fan-out"
print method that reduces its size, leading to either a slimmer phone, a larger battery, or more space for other internal components. In fact, there is speculation that went for all three - Apple has allegedly placed a
larger 1960 mAh battery
in the iPhone 7 (which the specs sheet here seems to reconfirm), despite making it a tad slimmer than the 6s, The removal of the 3.5mm audio jack might have helped in that respect, too.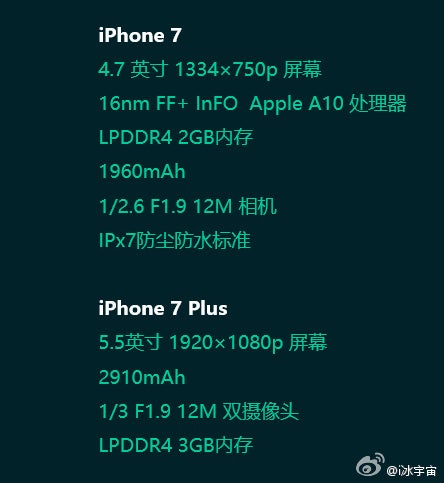 The most interesting part of these specs is not the processor, or the 2 GB/3 GB DDR4 RAM amounts, or the battery capacity, but rather the camera modules. The iPhone 7 and 7 Plus is shown with 12 MP cameras, just as the current iPhone crop, but the differences in aperture show that we might be having brand new modules here, and some exciting camera novelties in what is already one of the best mobile phone cameras. The main shooter of the iPhone 7 will eventually carry f/1.9 aperture, compared to f/2.2 in the iPhone 6s. The sensor size has also allegedly been grown to 1/2.6", as opposed to 1/3" in size, which might bring better low-light abilities, and could explain the larger camera lens opening that we have been seeing on leaked renders, dummies and schematics for months now.
As for the iPhone 7 Plus, its battery capacity may have also been bumped to 2910 mAh from the current 2750 mAh, and while the camera sensor size may have stayed the same at 1/3", the lens aperture has seemingly grown to f/1.9. Let's not forget that it is heavily rumored to feature this configuration in a
dual-camera
setup on the rear, too. What this leaked specs sheet suggest then, is a pretty exciting camera upgrade that might be in store with the new iPhones, so we can't wait to take them for a spin.
Recommended Stories