Apple's A10 chip for the iPhone 7 pops on Geekbench: as fast as the A9X
46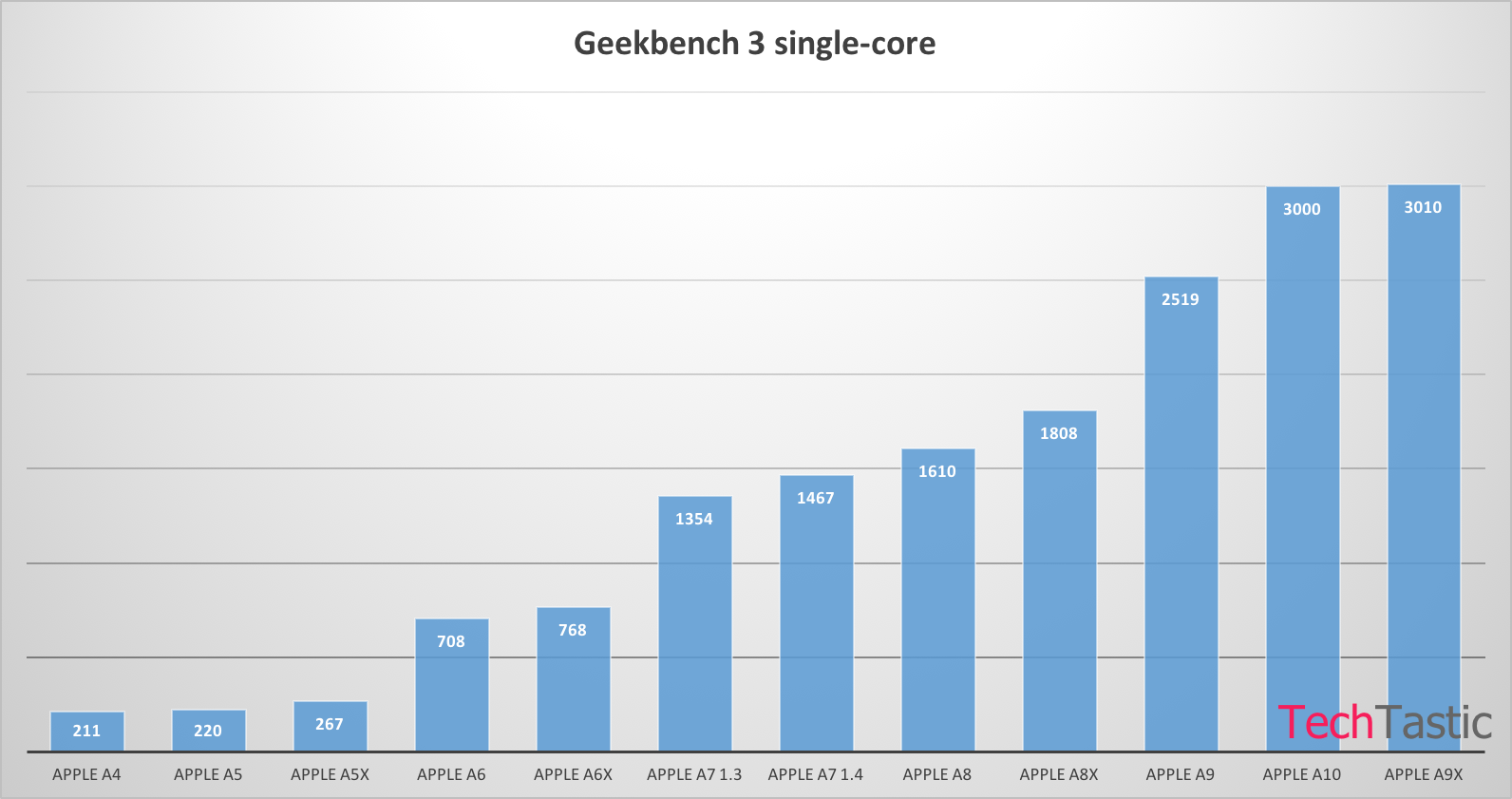 The new
iPhone 7
and
iPhone 7 Plus
, or whatever Apple decides to title them in the end, are likely arriving with new tickers inside, or the next generation Apple processors, dubbed tentatively A10. The A10 is expected to be built on the
16nm FinFET
node of TSMC, of which the foundry has doubled production in the last few months so as to be able to ramp up for the grand launch in September.
TSMC and the other foundries, however, still aren't ready for mass production on 10nm, though they do have trial batches out, hence the 16nm node for Apple A10 is the same used for the A9. Still, since it will be an improved design, we can expect better performance, lower power consumption, and lesser heating, as evolutionary steps go. How much better performance?
Well, the first A10 results have appeared on Geekbench, and, as you can see in the chart above, the single-core performance is pretty mighty, as we've come to expect from Apple's processor designs. The A10 scored only a tad lower than the Apple A9X in the
two iPad Pro models
, which are currently the fastest iOS machines out there, and about 20% higher than the A9 chip that is in the
iPhone 6s
and
6s Plus
, too.
That's not a negligible jump, and yet the score lift from A8 to A9 was in the realm of 50%, so we'd wager to guess the improvements in the actual A10 chip footprint and power consumption would be the more significant ones. In fact, there are rumors that the A10 will be made with the
unique "fan-out" method
that reduces its size, leading to either a slimmer phone, a larger battery, or more space for other internal components. In fact, there is speculation that went for all three - it has allegedly
placed a 1960 mAh battery in the iPhone 7
, despite making it a tad slimmer than the 6s, but we'll wait for the official unveiling or a second rumor source before we can believe that.
The A10 will still be an evolutionary step over the A9, though, as a popular Weibo account that often spills the beans on upcoming mobile chipsets has tipped today that the A10 is once again a dual-core chipset with strong single core performance, just like the last few editions. There isn't much you can throw at the A9 from the App Store or while browsing and taking pictures that will choke the processor, so there is no need to go overboard with horse power for the sake of power consumption anyway.