Alleged iPhone 7 Plus photo shows all 4 finishes, looks a bit fishy
23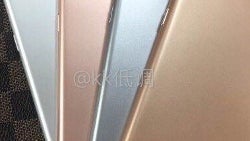 As we are getting close to September, it looks like every day, a new iPhone 7 leak pops up. We've seen cases, schematics, and even pictures of unadorned back plates, most pointing at the same thing — the
iPhone 7
and
7 Plus
will look
a lot like
the
iPhone 6s
and
6s Plus
, only with a slightly re-designed antenna band and a dual camera module on the Plus variant.
We've already seen photos of what is claimed to be
the back shells of four iPhone 7 units
, revealing the 4 finishes that the smartphone would be available in. While some time ago, the rumor mill claimed that there will be a new
Deep Blue
or
Space Black
color replacing the good old Space Gray, the aforementioned photo refuted those claims.
Today, we get to see a new photograph, this time of four alleged back panels of the iPhone 7 Plus (
or Pro
). These are, again, colored in Space Gray, Silver, Rose Gold, and Gold, with no new color to be seen. They look like they are close to a finished state, as the camera module looks complete, however, we can't help but noticing that there is no logo on the back, nor an engraving where it would be placed. Also seen in the photo are the 3 contact points for a Smart Connector like the one on the iPad Pro series. However, the picture quality is not great and you'd be forgiven if you find said points to look a bit funky or tacked on.
All in all, these don't really strike us as the final versions of the iPhone 7 Plus' back cover. This doesn't mean that they are not genuine – they could easily be meant for test devices. However, they could also be parts for iPhone knockoffs. What's your take?