Alleged Xperia Z4 screens peg the phone with a 5.2" display diagonal, upgraded chipset
51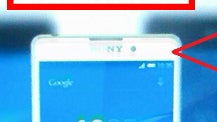 Sony Xperia Z4 rumors have been spanning the gamut so far - from a fully decked-out piece, to a more modest upgrade, but the consensus now seems to be towards the latter, as we've been receiving tips from two sources that Sony won't be
pulling all the stops
with larger displays and the like for the Z4.
First, a fairly aggravated Sony insider sent us a screenshot from what they claim is an internal presentation about the Z4, where the phone is shown to have a 5.2" 1080p display, apparently in response to the wild rumors about a
5.4" Quad HD Triluminos display
, or
the 5.5" one we heard about before
. The presentation had the word "battery" misspelled a bit, though, so we dismissed it, despite the fact that these internal docs are often riddled with typos, especially if English is not the native language of their creators.
Now, however, from the source that
leaked some iPhone 6 schematics before
, and a few other tips, comes a leak about the Xperia Z4 that claims the same screen diagonal. These are allegedly screenshots from computers in a Sony lab, and the handset is apparently shaping up to have a 5.2" display, just like the
Z3
. The jury is still out on the resolution, though, as the new leak pegs it at Quad HD again, but it will definitely up the ante in the processing department, it seems. Our first source, however, said that the handset will be laden with Qualcomm's Snapdragon 810 chipset, while here it is listed with 805, like the one in the
Note 4
. We find 810 harder to believe, given that the Xperia Z4 will likely be making a cameo in less than a month,
at the CES expo in Las Vegas
. In any case, we'll be there, and will let you know firsthand how it all pans out.
Thanks for the tips!
Recommended Stories