Claimed close-to-final iPhone 6 design pictures leak, allegedly taken with Google Glass
38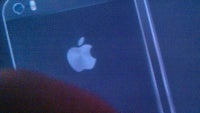 After months of crude
dummy
leaks, we are finally getting something that might resemble the finalized
iPhone 6
design more than those plastic prototypes that
get tossed around in front of the Kremlin
. The design snaps have allegedly been taken on the sly with Google Glass, claims the source, though at the end the author cautions that these renderings might be still a work in progress for Apple, or at least that's what we are grasping from the translation.
The author mentions a full-metal body will be in store with the iPhone 6, with beveled edges, a very slim screen package, and the venerable
Touch ID
sensor. This design looks more finalized and pretty elegant indeed, plus it is more worthy of the Apple school of thought than the
dummies sold for dime a dozen on Alibaba
, yet the pics confirm the general shape and elements placement impressions we've obtained from said dummy phones.
We've got the rumored Apple logo cutout on the back, though it's not really clear if
it will glow
from these pictures. We also get the expected circular camera opening on the back, and the two-tone LED flash, as well as the Touch ID sensor with a classy metallic ring around it. What throws us off a bit, however, is that what seems to be the frontal camera is placed right smack in the middle of the upper bezel, above the earpiece slit, like on the
iPhone 5s
, for instance. On the latest claimed front panel leak, a
large opening is seen next to the earpiece on the left
, which we assumed is for the frontal camera. Still, that might be for a proximity sensor instead, plus there is a similar spot at the top in the previous leak that looks just like the one in the current pictures, too. In any case, we shouldn't dive into deep conclusions from such leaks, as there's hardly a way to prove their veracity, but if this one holds water do you like how the iPhone 6 design might be shaping up?
Recommended Stories