Alleged Microsoft Lumia 940 specs leak: Snapdragon 805, 24 MP PureView camera, WP10
51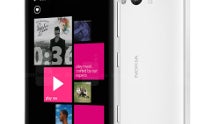 Microsoft
took over the Nokia Lumia branding with a vengeance
, and the next flagship that will appear under the Microsoft Lumia tag is shaping up to be a worthy first effort, judging from the purported specs, coming straight from a Nokia supplier factory. Now, we can't vouch for the authenticity of this factory computer screenshot we were sent, but the specs don't seem completely out of whack, so hopefully the Lumia 940 will materialize as listed below.
To start off, Microsoft would eventually eschew the latest Quad HD display trend, and stay with a 5" 1080p display, which we can't say we are disappointed about, as QHD panels currently draw much more power than more conventional resolutions. Interestingly enough, the phone is listed with Gorilla Glass 4 protective screen sheet - an edition that hasn't even been announced by Corning yet, which raises some red flags. Equipped with a 2.7 GHz quad-core Snapdragon 805 processor, coupled with 3 GB of RAM, the claimed Lumia 940 won't feel underpowered at all.
We saved the best for last, as the Lumia 940 might sport a new PureView camera generation with 24 MP resolution, capable of 4K video recording with 60fps, as well as a 5 MP frontal shooter with 1080p capabilities, which makes us impatient to see some test shots. We've
heard that Nokia has this new camera module in the pipeline before
, but for the first time we see a phone listed with it as a main shooter. The Lumia 940 might also be comparatively compact, at 137 x 71 x 8.9mm, weighing 149 grams - the whole point of issuing new editions of the PureView camera tech is to shrink its signature virtues into ever more compact modules. For comparison, the current
Lumia 930
flagship is a full millimeter thicker, although it bears the same width and height, which leads us to think that Microsoft might use a similar-looking chassis for the 940.
If this all turns out true, that is, as anyone can concoct such a table, and shoot a computer screen with it on display. Also, since the operating system listed is
Windows Phone 10
, don't expect the alleged Lumia 940 to land anytime soon, but rather chalk this off to wishful thinking. It's nice to have goals, though.
Thanks for the tip, Paul!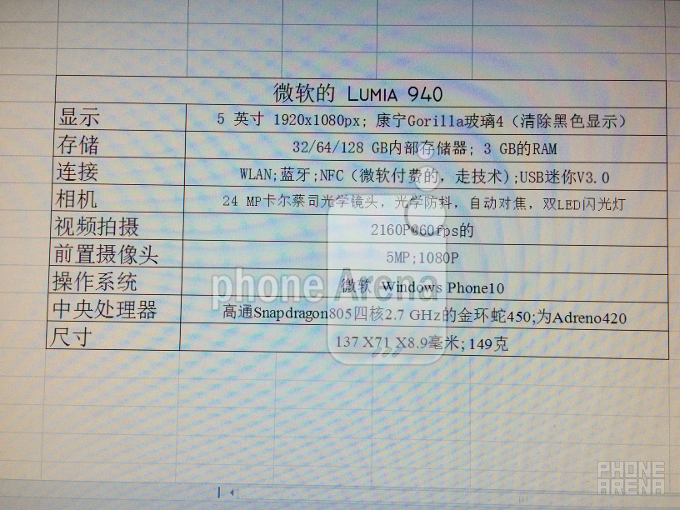 Recommended Stories