This phone costs less than $250, but has a sleek design and a few features we've never seen before
14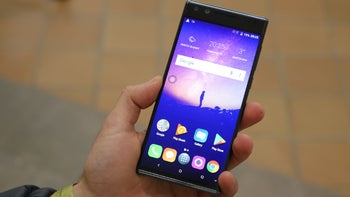 Come for the price, stay for the sleek design.
That's how we'd sum up our short, but memorable first encounter with the new "affordable flagship" Alcatel 5.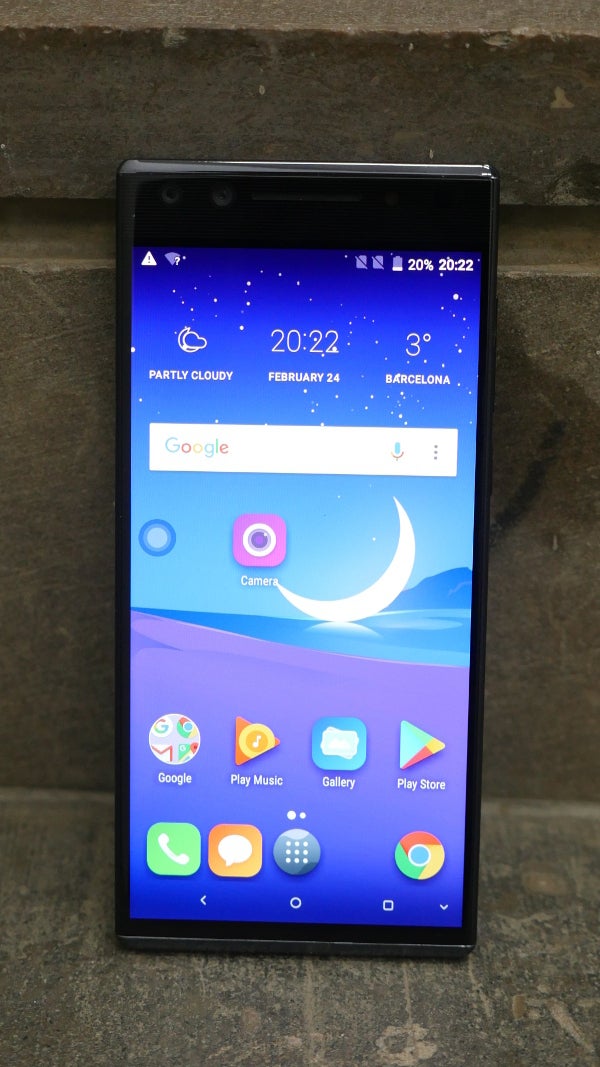 Alcatel 5, tiny bezel and a big, 5.7 inch
screen
What does affordable flagship mean? Well, it's a phone that costs just €230, so it is by no means a traditional flagship: this is a phone with a low-res 720p display after all, but here is the thing. We kind of like and it's the best one that Alcatel has got, hence the flagship name.
First, it's about the looks. Styled to look like metal, the Alcatel 5 is actually made from plastic and while it looks kitsch-y in pictures, it somehow is not so in real life. With an elegant, thin body and a slightly curved back it is certainly one of the nicest plastic phones we've seen in the recent past.
The display has almost no chin and a slim side bezel, but it has a big "forehead" of a top bezel. The screen is 2:1 and it's taller and narrower, but here is what's most important: colors on it don't look terrible. We're saying this because many cheap phones go with terribly bluish screens that do not have proper colors. Despite its low resolution, the 5 has good looking colors. Not perfect, but still good.
Innovation in a super cheap phone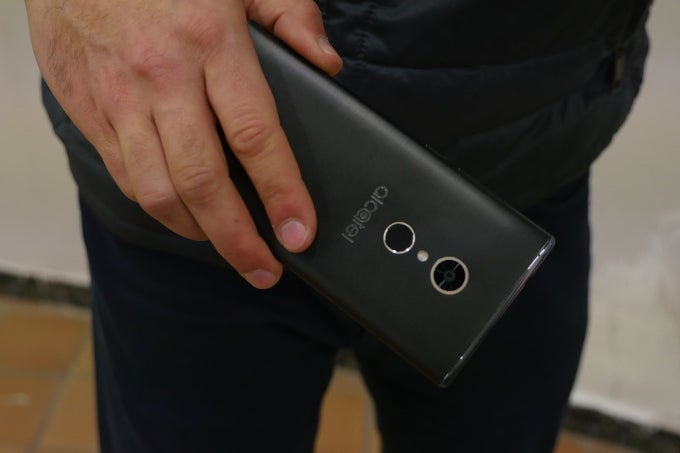 Each finger will unlock a different app
But it's not just the looks. The Alcatel 5 has at least two features that are innovative.
The first one is a fingerprint scanner that can recognize up to 5 different fingers. You can assign a shortcut to each one, so you can go directly into Facebook Messenger with one of your fingers, open Uber with the other, launch the camera with yet another, simply unlock the phone with the fourth one and - of course - go straight into the browser and into www.phonearena.com to check the latest tech news. You can fully customize these shortcuts to your liking.
Secondly, this phone has two front cameras, with a wide-angle secondary one and it will automatically switch to that camera when it detects three or more faces in a selfie picture. This is something so simple and straight-forward, we are surprised it's Alcatel that is the first one doing it.
A couple of other new tricks have made their way to this phone: an automatic collage creation tool and a photo booth camera mode, as well as a social photo mode that lets you have half the screen occupied with one photo and the other have acting as a viewfinder for you to take a picture that complements the first one.
There are a few quirks with the 5: the old Android 7 Nougat version on it is one and we have no good explanation for it. The low-res screen is the other. And then there is the MediaTek chip and the run of the mill specs (but actual performance was not too sluggish, definitely not super smooth or fast, though).
Final words
But those are probably not dealbreakers and we are surprised to say, but we quite like this new Alcatel 5. With a new chief designer at the top, this phone might actually compete against its rivals in more than just a specs war: it packs some cool innovations as well. Finally, the Alcatel 5 is already available in some markets in Europe, while the company is still not saying whether it will sell this phone in the US and if so, at what price.