Action Center for Windows Phone 8.1 shown on video
29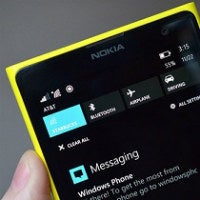 The flood of information about the Windows Phone 8.1 update continues, and as has become customary, the new info is coming from the Windows Phone 8.1 SDK. It looks like a new version of the update has been pushed, because we're finally getting a look at the new Action Center through the majesty of video rather than just still images.
The video is fairly short and it doesn't actually show any interactions with notifications, but it does show off the new Quick Settings toggles that will be present in the
Action Center
. We had seen screenshots before that showed these slots, and we had heard rumors that they would be customizable, but now we have the proof. By default, the Quick Settings slots hold options for a Wi-Fi toggle, Bluetooth toggle, Airplane Mode, and Driving Mode; but, you will be able to swap out any of those for other options, including a Camera button, Location toggle, Internet Sharing, Rotation Lock, VPN, and Project My Screen.
The video also shows that you will likely be able to turn off notifications from specific apps and control the notification sounds in the centralized settings menu in the Action Center. The video only shows the Messaging settings, but there is an on/off toggle and notification sound settings which we would expect to extend to any apps that pass through the Action Center.
The Windows Phone 8.1 developer preview is expected to be released at Microsoft's Build Developer Conference in
April
with the full update coming to users over the summer.