Acer Liquid ZX coming soon: a 3.5" Android phone that is actually good
22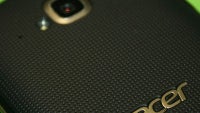 So far in the land of Android rule of the thumb is that a good phone is a big phone. If you want the latest processor, display technology, camera and so on, you inevitably had to get a phone that is large. In 2010 large meant 4 inches, one year after that grew to 4.3", next year it was 4.8" and this year it's a whopping 5-inch screens.
It doesn't have to be that way though - some people would just like to have a phone that is both compact and has a decent screen, processor and camera.
And Acer wants to provide that choice with the
Acer Liquid ZX
, an upcoming 3.5-inch phones that will be unlike its other low-end siblings.
WE ARE GOING TO ANNOUNCE A 3.5-INCH DEVICE WHICH IS PROUD TO BE SMALL
"A lot of people have started abandoning 3.5 inch. No, we are going to persist on 3.5 inch and we are going to make a 3.5 inch suitable for a segment of people that treasure smaller screen devices,"
Acer smartphone division president ST Liew said.
"We are going to announce a 3.5-inch device pretty soon which is proud to be small,"
Liew continued teasing the upcoming Liquid ZX. The phone is obviously close to launch as Liew had one with him, but could not show it before the official unveiling.
Acer's strategy however is not just to focus on the low-end.
"We believe that we will capture small screen smartphone and large screen smartphone,"
said Liew referring to both the 3.5" Liquid ZX and the company's 5.7-inch phablet, the
Acer Liquid S1
.
Acer has used an almost stock version of Android in its latest devices and obviously plans on continue doing so. The company sees its mission into simplifying software to enable the hardware. Are you excited about seeing a compact device that is also powerful such as the 3.5-inch Liquid ZX? Or do you still think that better should mean larger?
source:
Pocket-lint