Acer Iconia Tab A501 Hands-on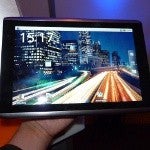 Acer might be the new kid on the blockwhen it comes to tablets, but who isn't anyway? Despite that, thecompany managed to pull off a well-designed 10.1-inch slate codenamedAcer Iconia Tab A501, coming not only on Verizon, but obviously toAT&T with support for the carrier's 4G network as well. Thebrushed aluminum back on the Android Honeycomb tablet and its crispscreen will definitely appeal to many.Actually, if you take a closer look at the video, you can notice thatthe Iconia Tab A501 runs Froyo due to the early prototype unit we saw at CTIA,but the final version will feature the tablet-optimized Honeycomb.
While it lacks the extremely slimprofile of recently announced tablets (the depth here is 0.52" or 13.3mm), it still has a very premiumfeel due to the quality materials used. The weight is alsosubstantial – with 25.75 ounces you can almost use this tablet foryour daily workout. In terms of hardware specs, it stands on par withwhat most of the Honeycomb crowd can offer: 1GHz NVIDIA Tegra 250dual-core processor with integrated graphics, a 5-megapixelrear-facing camera and an HDMI-out port.
With a release date in the secondquarter of the year, the only thing we wish we knew now is the price. But whatever itis, we hope Acer can overcome its shortage of tablets we recentlyreportedabout, and fulfil our gadget hunger on time.