AT&T's CEO says that a smaller SIM card is a "no-brainer", comments on which phones are hot or cold
13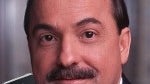 Ralph de la Vega, the CEO of AT&T, sounds ready to embrace the
smaller
SIM card format produced by Apple. Calling such a reduction in the card a "
no-brainer
", the executive still has not totally committed to the new SIM card design the way that the CEO of France Telecom has. Last month, as we
reported
, France Telecom CEO Stephane Richard said that carriers and Apple had agreed on thesmaller SIM card as a compromise. Apple had discussed using an embedded chip instead. Thanks to the smaller size of the new card, Richard said that the size of the new card will allow Apple to make the next iPhone "
smaller
and
thinner
". Currently, the Apple iPhone and iPad use a
micro-SIM
format.
While not as ecstatic as Richard seems to be with the new SIM card design, de la Vega does admit that AT&T is working with the industry on the improvements and as far as replacing the larger card format with the smaller sized cards, he says, "I think that probably will happen". According to an executive at France Telecom subsidiary Orange, Apple submitted the new SIM card form factor to a European Standards Institute.
The AT&T executive commented on how sales of certain platforms are doing. Noting the drop off in
BlackBerry
sales, the AT&T CEO noted that the
Apple iPhone
and
Android
have been "positive surprises". Summing it up, de la Vega said that, "Android and Apple are really the hot products right now," he added, noting that customers have been "choosing other products rather than traditional BlackBerries."
The CEO also said that sales of
Windows Phone 7
flavored models have been
disappointing
. While he said that he likes the platform very much, sales have not been up to the level that neither he or Microsoft expected. What could improve Microsoft's mobile OS? De la Vega says that offering customers
more apps
with more functionality on the phone is all that Windows Phone 7 needs. The AT&T CEO was interviewed earlier last week when he made the comments.
source:
AppleInsider
Recommended Stories