Orange boss: "the next iPhone would be smaller and thinner," coming with super small SIM card
13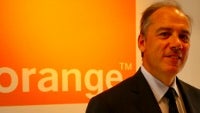 Stephane Richard, CEO of France Telecom, might be one of the most trusted insiders you could turn to when it comes to Apple. France Telecom is owner of Orange, the carrier which sells more iPhones than any other in the world except for AT&T. So when he says that "
the next iPhone would be smaller and thinner
" we listen and take this as one of the most reliable rumors we've heard so far. But he went even further saying that the new iPhone will also come with a
new form of SIM card
, smaller than the standard one and even smaller than the previously developed micro SIM.
"We are going to work with them in order to standardize a new format of SIM which takes into account our needs with security and authentication and also is compatible with their wishes in terms of size," Richard commented. "As you probably know, Apple has been working for years on reducing the size of SIM cards because they need space in the phone. They even thought about a device without any SIM card, that is what is known as the e-SIM project." But getting rid of SIM cards all at once would have been a critical hit on security and authentication, and eventually Apple was talked out of the idea.
The big news didn't end there either as the chief executive quite frankly shed some
new light on other platforms and carriers
:
"
We have regularly problems with RIM
. We have no problem with Apple and with Android. Let's be frank and clear."
Despite its candid speech about the Canadian phone maker, Richard refuted claims about the decline of RIM and BlackBerry. He also didn't hide his
uncertainty over the Microsoft-Nokia agreement
and his
downright skepticism when it comes to tablets
. But while the CEO admitted the many difficulties that carriers face with booming data usage, he lavished praised on Apple and their creations: "They just created smartphones with the iPhone. Everybody should be grateful to them to have put such a product in our market." What's your take on this new turn of events about the next iPhone and Richard's insight? Don't hesitate to hit us with your comments below.
source:
All Things D
Recommended Stories