AT&T to get its own Galaxy Nexus in the form of Samsung Galaxy SII Skyrocket HD
22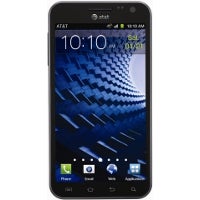 Galaxy Nexus
gravy train, you thought wrong. The carrier will be getting its own version, called the mouthful Samsung Galaxy S II Skyrocket HD, in LTE flavor, of course, and with the well-known 4.65" HD Super AMOLED display with 720x1280 pixels.
This tasty info was tucked in the press release below, and a picture of the device was also quickly shown at
AT&T's Developer Summit
just recently.
The phone will be powered by a 1.5GHz dual-core processor of undisclosed kind, and the design is supposed to be razor-thin, yet sport removable battery.
Availability of this one is cited to be "
in the coming months
", but we already can't wait. Does this mean that it will sport a new chipset, either Samsung's own, or of Qualcomm's next-gen breed? We don't know, but here's for hoping.
source: AT&T & Samsung
AT&T Unveils 4G LTE Android Smartphones and Tablet Planned for Early 2012
AT&T Goal is to Deliver AT&T Customers the Industry's Best Mobile Broadband Experience With Leading 4G LTE Device Portfolio, Along with Best-in-Class Apps and Network
Dallas, Texas, January 09, 2012
Key Facts
From the stage of the AT&T Developer Summit -- one day before the 2012 International Consumer Electronics Show in Las Vegas -- AT&T Mobility and Consumer Markets President and Chief Executive Officer Ralph de la Vega unveiled five smartphones and one tablet powered by 4G LTE and the Android platform that are planned for availability from AT&T* in early 2012.
New LTE Samsung smartphones include the Samsung Galaxy Note™, a 5.3-inch device combining the benefits of various mobile devices while maintaining smartphone portability, exhibited on stage by Dr. W.P. Hong, Head of Global Product Strategy Team, Samsung Electronics.
Pantech Chief Marketing Officer S. Jay Yim also addressed summit attendees about the first LTE-connected Android tablet under $300, the Pantech Element™, planned for availability on Jan. 22.
De la Vega announced the first 4G LTE smartphone from Sony®1, the Xperia™ ion exclusively from AT&T, with availability planned for second quarter of 2012.
He also introduced the Pantech Burst™, a consumer-oriented device for under $50 that is designed to help make 4G LTE devices more affordable to customers.
For a limited time, customers may buy the Pantech Element and Burst together on contract and get the Element for $249.99 and the Burst at no cost.
Additional Samsung smartphones unveiled at the AT&T Developer Summit included the Samsung Galaxy S® II Skyrocket™ HD, a 9.27-millimeter sliver of a smartphone with an HD Super AMOLED™ screen (1280x720), and the Samsung Exhilarate™, the first 4G LTE smartphone built to meet many environmental and sustainability standards. The Samsung Exhilarate will also be introduced at an affordable price, below $50.
The AT&T Developer Summit is a two-day event for software developers to participate in a Hackathon, hear the latest news on AT&T 4G devices and network and get technical news and marketing insights from industry experts. Over 2,000 developers are attending. AT&T remains focused on opening up its network to developers and creating opportunities for collaboration. The two-day AT&T Developer Summit underscores this commitment.
At the Developer Summit, AT&T also provided an update on its 4G LTE network build and outlined the benefits of its blended network technologies approach, which offers customers with compatible devices consistently fast 4G speeds in and out of 4G LTE areas.
All news release and related multimedia content are available in the AT&T online newsroom: att.com/aboutus. Customers can learn more about the devices previewed today at att.com/ces.
Samsung Galaxy Note™. A task master's dream, the Galaxy Note combines the best features of a smartphone with the larger viewing screen of a tablet and the convenience of a notepad -- delivering all-in-one functionality to help users work more efficiently and maintain productivity while on-the-go. Featuring the largest screen on a smartphone, the Galaxy Note boasts the world's first 5.3-inch HD Super AMOLED™ screen (1280x800) for sharp, clear colors and readability – both indoors and out. Galaxy Note also features the S Pen™, the most advanced pen input technology, featuring an array of leading qualities including pressure sensitivity, preciseness, speed and more. With the S Pen, users can easily sketch drawings, jot down notes, or write emails and texts quickly and easily in free-form handwriting. An easy screen-capture function also allows users to instantly save any screen, and these screens can also be personalized with the S Pen before being saved or shared.
The Samsung Galaxy Note is planned for availability in AT&T stores and online in the coming weeks.
Samsung Galaxy S II Skyrocket HD. Planned for availability in the coming months, the Samsung Galaxy S II Skyrocket HD is an elegantly designed and highly functional 4G LTE smartphone that features a 4.65-inch HD Super AMOLED screen, as well as a 1.5 GHz dual-core processor for ultra-smooth game play and video playback.
Samsung Exhilarate™.Also planned for availability in the coming months, the Samsung Exhilarate is constructed from 80 percent recycled post-consumer materials and features eco modes and tools such as an Eco calendar and calculator. The Exhilarate also boasts a four-inch touchscreen Super AMOLED display, front and rear facing cameras, voice recognition and access to AT&T U-verse® Live TV. In addition, the Samsung Exhilarate was certified as Platinum by UL Environment – their highest level of sustainability certification. This is AT&T's second device to receive this certification.
Pantech Element™.This affordable tablet will be available exclusively in AT&T company-owned stores and online for $299.99 with a two-year contract, with planned availability on January 22. The Element is Pantech's first LTE-connected Android tablet, and is waterproof2, greatly improving portability and usability (see the Pantech website for full details). The Element runs on Android 3.2 (Honeycomb) and includes a crisp 8-inch display, front and rear-facing cameras, and a rich web experience with full HTML and PC-like tabbed browsing.
Pantech Burst™. Also planned for availability on January 22 in AT&T company-owned stores and online, the value-oriented Burst will be the first 4G LTE smartphone from Pantech in AT&T's device portfolio. The Burst combines 4G LTE speeds, a 4-inch Super AMOLED display and Android functionality in a slim, affordable package – just $49.99 with a two-year contract. It will be available in two color choices, titanium or ruby red.
For a limited time, customers may buy the Pantech Element and Burst together on contract and get the Element for $249.99 and the Burst for free.
AT&T will be the first carrier to offer Sony's first-ever 4G LTE smartphone and first smartphone to be sold under the Sony brand in the U.S. Slated to launch in the second quarter, the Xperia ion from Sony is ideal for those looking for the ultimate smartphone viewing and listening experience.
Samsung Note™, Galaxy S II Skyrocket™ HD and Exhilarate™ Pantech Element™ and Burst™ Xperia ion from Sony Xperia ion will support access to the richest entertainment experiences from Sony Entertainment Network. Music Unlimited offers a global catalog of more than 12 million unique songs, while Video Unlimited has the latest Hollywood blockbusters and TV shows from all major studios. Xperia ion is also PlayStation® Certified, delivering a high quality smartphone gaming experience. Consumers will be able to access this content across Sony devices, including televisions, computers and tablets. Other features include Android 2.3, a 4.6-inch3 HD display, a 12-megapixel camera with Sony Exmor R™ for mobile, and a 1.5 GHz dual-core processor for fast browsing.