AT&T scores the Asus VivoTab RT with LTE and the Samsung ATIV Smart PC Windows 8 tablet
4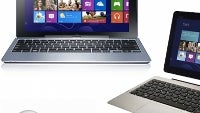 Besides all the flagship phones from Samsung, Nokia and HTC that AT&T showed yesterday during the demo event for its holiday lineup, we also had a few distinguished members of the tablet world being launched on America's second-largest carrier.
And yes, they are both Windows slates, marking a representative for each of the new Microsoft OS versions. First off, we have the
Samsung ATIV Smart PC
Windows 8 tablet. The Smart PC runs on an Intel Atom chip and brags about having a battery life of 13.5 hours. The display is 11.6" 1366 x 768 pixel one that detaches from the keyboard dock, and could be used as a tablet with multitouch support, coming with Samsung's S Pen and accompanying apps.
Next in line is the brand new effort from Microsoft to bring the world's most popular OS to the frugal ARM processor architecture, represented by the Asus VivoTab RT Windows RT slate. Asus made a name for itself in the Android tablet world, and is naturally trying to replicate that with Windows. AT&T picking it up means Asus has more or less achieved that goal.
The
Asus VivoTab RT
has a smaller, 10.1-inch screen with the same 1,366 x 768 pixel resolution. It's running on Nvidia's Tegra 3 quad-core chip, has 2GB of RAM, 32GB of internal memory and a Wacom stylus coming along. It's lighter at just 1.15 pounds (520 g) and even thinner at 8.3mm. The Tegra 3 processor here is paired with an LTE radio, just to show the world it can be done. The Asus tablet also comes with full Microsoft Office 2013 preinstalled to sweeten the pot.
Prices were not disclosed, but we'd wager to guess that the Smart PC by Samsung will be the more expensive slate, compared to the 32GB Win RT Asus one, but we will know more pretty soon, as
Microsoft just scheduled its Win 8 launch event
three weeks from now.
AT&T Debuts Windows 8 Tablets Available for Holiday Shopping Season
New Tablets from ASUS and Samsung Deliver Windows 8
Dallas, Texas, October 04, 20
AT&T* today announced a set of new tablets designed for Windows 8; giving customers the convenience of a tablet with productivity of a PC. For the 2012 holiday shopping season, AT&T will be the only U.S. carrier to offer these new tablets from ASUS and Samsung to their customers.
ASUS VivoTab™ RT
ASUS VivoTab™ RT, the first quad-core Windows RT 4G LTE tablet, is an ultra-thin and light tablet designed as the ideal mobile entertainment, productivity and gaming platform with stand-out battery life. The VivoTab™ RT features a 10.1" multi-touch Super IPS display with ASUS TruVivid technology that offers a remarkably vivid and brilliant viewing experience of photos, books, videos, games, applications and more. The VivoTab™ RT is equipped with 32 GB of storage and NVIDIA's next-generation quad-core Tegra® 3 TE processor. This 4G LTE capable tablet offers enhanced productivity tools for work or home and comes with Microsoft Office Home and Student 2013 RT Preview Edition.
Samsung ATIV Smart PC
Samsung ATIV Smart PC offers customers the blend of PC capability with the convenient tablet form factor. With a detachable keyboard-docking system users easily switch between a clamshell notebook PC and a tablet PC. The powerful ATIV Smart PC allows users can work or stay entertained while on the go with the 11.6" HD PLS display, Intel Clover Trail 1.5 GHz dual core processor and 64GB internal storage memory. ATIV Smart PC comes installed with Windows 8, and preloaded with a trial version of Microsoft Office 2013 for productivity apps, including Microsoft Word, Excel & PowerPoint.
"AT&T is a leader in connected devices, and we are thrilled the Windows 8 tablets will be available on the nation's largest 4G network," said Chris Penrose, senior vice president, AT&T Emerging Devices. "With Windows 8, both tablets give customers an optimized touch interface, instant live tile updates and PC capabilities. For as low as $10 per month, customers can connect their Windows 8 4G LTE tablets with AT&T's new Mobile Share plans."
AT&T customers have access to the nation's largest 4G network, covering 275 million people. AT&T has two 4G networks that work together for customers, LTE and HSPA+ with enhanced backhaul. That means AT&T customers are able to enjoy a widespread, ultra-fast and consistent 4G experience on their compatible device as they move in and out of LTE areas.** With other carriers, when you travel outside of their LTE coverage area, you may be on a much slower 3G network.
Customers purchasing Windows 8 tablets from AT&T have more options in choosing the plan that's right for them and their mobile devices. With new AT&T Mobile Share plans, new and existing customers can share a single bucket of data across smartphones, tablets, and other compatible devices. AT&T Mobile Share allows customers to build a plan to fit their devices and usage. Customers can select one of the new shared data plans or choose one of AT&T's existing individual or family plans.
Both Windows 8 tablets will be available in AT&T company-owned retail stores and online atwww.wireless.att.com in time for the holidays.