AT&T considering buying Dish Network to solve its spectrum woes
11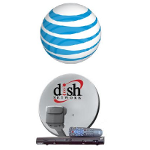 Back before AT&T pulled out of its proposed $39 billion buyout of T-Mobile, Dish Network said it was
interested in the nation's fourth largest carrier
if AT&T's offer failed. Now, there is speculation that AT&T is considering a purchase of Dish Network to add much needed spectrum to the company.
Bloomberg
, in a report dated Monday, said a deal could come at the highest premium paid in over ten years for a tech takeover..
While AT&T's failed 9 month pursuit of T-Mobile allowed Verizon to add more ground between it and its closest competitor, it also ended with
AT&T giving up some prized spectrum to T-Mobil
e as
part of a break-up fee that was triggered
when the
former pulled out of the deal
due to regulatory deadlock. In addition, AT&T had to pay $3 billion in cash to Deutsche Telekom as part of that fee. During AT&T's attempt to persuade the DOJ and FCC to green light the deal, Verizon was
adding spectrum from Comcast, Time Warner and Cox Communications
. And despite
purchasing some spectrum from Qualcomm
, AT&T needs more, especially when
Bloomberg
points out that Verizon has 56% more LTE spectrum than AT&T.
There have been rumors that AT&T would look to add spectrum by making a acquisition of pre-paid carrier
MetroPCS
or by buying
Leap Wireless
. But that would put AT&T in the familiar place of having to get approval from the government and if AT&T had trouble buying T-Mobile, would the DOJ and FCC allow them to buy MetroPCS, especially since the pre-paid carrier has an LTE network? A purchase of Dish Network would come with a
lot less regulatory hassle
, something that AT&T brass would have to like.
Following FCC approval, Dish Network wants to move spectrum it had acquired from DBSD and TerreStar into mobile-device spectrum with a value of $9.4 billion. AT&T would probably
have to pay $50 for Dish
, which would give the company a value of $22.3 billion, and $4.9 billion in debt would have to be assumed. With the satellite company's stock currently trading at $29, AT&T would be paying a whopping 72% premium for the company, the highest premium for a tech take-over valued at more than $5 billion since 2000, according to
Bloomberg
.
Roger Kay, an analyst with Endpoint Technologies, said that "
Dish would be a good option for AT&T [as] the carrier is spectrum-starved and it needs to ramp up fast, but the market is already primed for that scenario. AT&T won't find any bargains
." Other analysts agree that AT&T needs to do something to stop Verizon from adding to the gap between it and AT&T. ReconAnalytics analyst Roger Entner said in a telephoneinterview, "
They [AT&T] are a year behind Verizon in the LTE race.Dish would undoubtedly be a good combination and it would solvea lot of AT&T's problems
."
The billion dollar question is whether AT&T would agree to pay a 72% premium to buy Dish. Company stockholders might object to paying $50 a share for a company currently trading under $30 a share. Still, things are getting desperate for the carrier as far as spectrum is concerned. That factor combined with the company's wish
not to repeat the T-Mobile scenario
means that AT&T executives may not mind paying so much for Dish Network as long as the deal succeeds.
source:
Bloomberg
via
eWEEK.com