AT&T withdraws T-Mobile merger papers from the FCC, will book the break-up fee as a loss in Q4
38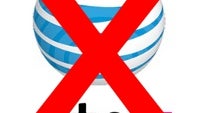 After the
FCC Chairman himself asked for an investigation into the AT&T's proposed merger with T-Mobile
, America's second largest carrier waved the white flag, and has apparently
withdrawn electronically the merger application papers
from the Federal Communications Commission.
Deutsche Telekom and AT&T are still planning to pursue a deal if the federal dust settles, but with the increased likelihood that the authorities are willing to shoot down the $39 billion merger no matter how the carriers spin it as it is, AT&T basically acknowledges that the chances are slim to none at this time, since it needs both DoJ and FCC approval.
Moreover, it seems that its accountants will be provisionally
booking a $4 billion loss
on the
whole endeavor that started in the spring
. $3 million is AT&T's contractual obligation to pay a break-up fee if the deal doesn't get regulatory approval, and $1 billion is for the book value of the spectrum in question.

DALLAS--(BUSINESS WIRE)--On Nov. 22, 2011, the Federal Communications Commission indicated a proposed order was circulating that would designate for hearing the applications of AT&T Inc. and Deutsche Telekom AG For Consent To Assign or Transfer Control of Licenses and Authorizations, WT Docket No. 11-65. On November 23, 2011, AT&T Inc. and Deutsche Telekom AG electronically withdrew without prejudice, as of that date, the pending applications listed in the Public Notice released by the Federal Communications Commission on April 28, 2011 in that proceeding. Associated manual notification of withdrawal filings also are being made.

AT&T Inc. and Deutsche Telekom AG are continuing to pursue the sale of Deutsche Telekom's U.S. wireless assets to AT&T and are taking this step to facilitate the consideration of all options at the FCC and to focus their continuing efforts on obtaining antitrust clearance for the transaction from the Department of Justice, either through the litigation pending before the United States District Court for the District of Columbia, Case No. 1:11-cv-01560 (ESH) or alternate means. As soon as practical, AT&T Inc. and Deutsche Telekom AG intend to seek the necessary FCC approval.

As a result of the FCC's action, AT&T expects to recognize a pretax accounting charge of $4 billion ($3 billion cash and $1 billion book value of spectrum) in the 4th quarter of 2011 to reflect the potential break up fees due Deutsche Telekom in the event the transaction does not receive regulatory approval.
Looks like the mammoth carrier that would have been created by the merger won't occur, and
Amazon should have included T-Mobile in its Black Friday penny sale
. Now the question is how will T-Mobile do on its own, despite that the $4 billion in fees will pad DT's bottomline pretty.
source:
AT&T