ASUS shows off Qube Google TV set-top box, army of Windows 8 devices at CES
6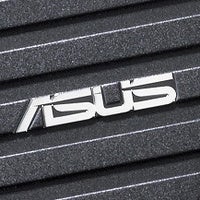 There will be quite a lot going on over at the ASUS booth during this year's CES. That's because the company will have a whole bunch of gadgets to show off, including its fresh lineup of Windows 8 tablets and Ultrabooks. However, while most of these are devices we're already familiar with, one of them is a brand new arrival.
Remember that
mysterious Google TV gizmo that appeared at the FCC
in November? Yeah, it is now official and it is known as the
ASUS Qube
. What we have on our hands is a set-top box that allows you to enjoy content from the Google Play store, Netflix, and the Amazon Instant Video service right on your HDTV. Access to the web via the Chrome browser also comes standard, in addition to the built-in YouTube client. In addition, an advanced remote control with
motion
sensing is included in the set, but alternatively, users can control their ASUS Qube from an Android app designed for the purpose. Each Qube comes with 50GB of cloud storage, courtesy of ASUS.
But that's not all ASUS has to impress the CES crowd with. The
ASUS VivoTab Smart Tablet
will be on display as well – a 10.1-inch Windows 8 slate powered by an Intel Atom Z2760 dual-core processor, all the while boasting 9.5 hours of battery life. Further down its specs sheet we see an 8MP
"high-quality"
camera, 2MP front-facing cam, 1366 by 768
pixel
IPS display, thickness of 9.7 millimeters and a respectable weight of 580 grams. What's interesting about the ASUS VivoTab Smart Tablet is that it can be used with the TranSleeve Keyboard, which is an accessory that combines cover and hardware keyboard into one.
The list of Windows 8 devices bound to appear at CES continues with the
ASUS Taichi Ultrabook
sporting a unique, dual-screen form factor. When closed, the device can be used as a highly-portable Windows tablet, but opening its lid up reveals both a hardware back-lit keyboard and a touchpad. No compromises have been made when it comes to the Taichi's performance as it comes with third-gen Intel Core processors, fast SSD storage, and 11.6- or 13.3-inch full HD screens.
Something that one might find a use for at their home is the
ASUS Transformer AiO
computer capable of running both Android and Windows 8. In fact, the device can switch seamlessly back and forth between the two, but that's not the only feature that makes it stand out. You see, it comes with an 18.4-inch touchscreen that can be detached for use either as a remote Windows 8 display, or as a stand-alone Android tablet.
Last but not least we have the
ASUS Transformer Book TX300CA
, which is also to be shown off during CES. It is what ASUS calls
"one of the world's first convertible Ultrabooks"
, highlighting its ability to be used as a Windows 8 tablet or as an extremely portable notebook when it is attached to its hardware keyboard. In terms of specs we have a Core i7 processor with Intel HD4000 graphics, 1920 by 1080 display measuring 13 inches, 4GB of RAM and a choice between a high-performance SSD or a high-capacity HDD.
So there you have it, folks! ASUS has brought its outstanding selection of Windows 8 devices at CES, along with the Qube set-top box powered by Google and sprinkled with Play store content. Which one of these gadgets is your favorite?
source: ASUS

ASUS Transforms Innovation into Style at 2013 International CES

-- ASUS presents the latest PC technologies featuring the uniquely styled TAICHI™, Transformer AiO, Qube with Google TV, ProArt Series Monitor and the VivoTab™ Smart Tablet --

Las Vegas, NV (January 7th, 2013) - ASUS, a market leader in personal computer products, is displaying several of its latest offerings at the 2013 International CES event in Las Vegas today. Innovation is at the heart of ASUS design and this is especially true of its latest computing products. A few highlights of the show include the following products:

ASUS TAICHI™ — dual screens for an Ultrabook and a Multi-Touch Tablet in one

The ASUS TAICHI™ is a slim and stylish ultraportable with an astonishing key feature — both 11.6" and 13.3" models have a brilliant double-sided LED-backlit IPS/FHD display. With a touch screen on the outside of the lid, the TAICHI™ opens up a whole host of new mobile possibilities as it plays the role of both Ultrabook™ and Tablet.The TAICHI™also delivers uncompromised mobile performance, with 3rd generation Intel® Core™ processors, fast SSD storage and dual-band 802.11n Wi-Fi.

With the lid open, the TAICHI™ is just like any Ultrabook™ computer, and comes complete with a full-size QWERTY backlit keyboard and track pad. With the lid closed, however, the TAICHI™ instantly becomes a multi-touch tablet computer with stylus support, bringing a degree of flexibility that has never before been experienced on an Ultrabook™. Better still, while they provide access to the same hardware, the two screens are completely independent of each other and can also be used simultaneously, which means the TAICHI™ can be shared with two users for a host of innovative new applications.

ASUS Transformer AiO — desktop PC and handheld tablet combined

Part tablet, part All-in-One PC, the Transformer AiO is an innovative device that can seamlessly switch between both, and features dual operating systems giving users the option of switching between Windows 8 and Android 4.1 depending on the situation.

The Transformer AiO features Windows 8 and an extended 18.4", 10-point touch LED-backlit IPS display, 3rd generation Intel® Core™ processor technology, and has a compact, versatile design with height and tilt adjustments. It also features ASUS SonicMaster technologyto deliver crystal-clear sound through its integrated speakers.

The 18.4-inch Full HD displays easily removed from its base station to become a wireless display that extends the range of the PC and allows users to continue with their work around the home. Transformer AiO also features an NVIDIA® Tegra® quad-core processor for self-contained use as an Android tablet, and switches seamlessly between Windows 8 and Android 4.1 Jelly Bean at the press of a button.

ASUS Transformer Book TX300CA— the world's first convertible Ultrabook™

The ASUS Transformer Book TX300CA is one of the world's first convertible Ultrabooks™ — allowing users to instantly switch between an Ultrabook™ and a tablet by simply detaching the screen. It is aimed at users who prefer the portability of a multi-touch tablet computer for leisure, but still want access to a more familiarUltrabook design for productivity use.

The Transformer Book TX300CA delivers performance and an excellent user experience thanks to the latest Intel® Core™ i7 processor* with HD4000 graphics, along with SSD and HDD storage, 4GB DDR3 dual channel RAM, Bluetooth 4.0 and USB 3.0. It also features ASUS SonicMaster technology to deliver crystal-clear sound with deep rich bass through its integrated speakers. The Transformer Book sports dual cameras, with a HD front-facing camera and a 5MP rear-facing camera* making it perfect for both photo-taking and video chats.

This lightweight ultraportable is available with a 13" Full HD (1920x1080) IPS display with multi-touch capabilities. This can be detached from the full-size QWERTY keyboard* to create a highly portable tablet to give the best of both mobile worlds.

ASUS VivoTab™ Smart Tablet featuring Windows 8

The ASUS VivoTab™ Smart Tablet features an Intel® Atom™ Z2760 dual-core processor for fast and responsive performance, while still providing up to 9.5 hours battery life on a single charge. Just 9.7mm thin and 580g light, ASUS VivoTab™ Smart has a 10.1-inch LED-backlit display with a crisp 1366 x 768 HD resolution. IPS display technology delivers 178-degree wide viewing angles and ensures clear and bright images, even when seen from the side. VivoTab™ Smart also features 5-point multi-touch for fluid fingertip control with Windows 8. The TranSleeve Keyboard is an innovative accessory that is a cover, keyboard, and stand all rolled into one. It not only aids in the typing experience, but protects the tablet as well.

ASUS VivoTab™ Smart features a high quality 8-megapixel rear camera with auto-focus, five-element lens and 1080p Full HD video recording, while the front 2-megapixel camera is perfect for face-to-face HD video chats. VivoTab™ Smart also features renowned ASUS SonicMaster audio technology for incredible sound quality and a built-in NFC sensor, enabling the device to easily sync with other NFC-enabled devices.

Qube with Google TV - Bring the world of entertainment to your TV

Instantly add Google TV to your HDTV with the ASUS Qube. Qube with Google TV offers both motion control and voice search that integrates Google Play, Chrome™, YouTube™in one compact device. With access to over 100,000 movies and TV shows* from Netflix and Amazon Instant Video, plus numerous apps, videos and games from Google Play, ASUS Qubewith Google TV is the perfect media content device.
ASUS has developed the unique Qube interface, which displays functions via a rotating on-screen cube shape. The advanced remote control supports motion sensing for gaming and other applications. Customers can also control Qube with Google TV from their Android smartphones and tablets using the Mobile Remote app, available through Google Play. ASUS includes 50GB of WebStorage cloud space with every Qube with Google TV.

For customers who need a professional-grade monitor to enhance their work, the LED-backlit PA249Q ProArt delivers uncompromising color precision, pre-calibrated at the factory to ∆E <5, the highest accuracy of any screen in its segment. It includes a 16:10 1920 x 1200 IPS panel for superior image quality and viewing angles, with 100% Adobe RGB color reproduction and customizable color adjustment options. Users can modify red, green, blue, cyan, magenta, and yellow hue levels independently, a highly sought-after feature in graphics design. ASUS QuickFit Virtual Scale displays images and documents in their native size on-screen for "what you see is what you get" accuracy. A five-way navigation key provides easier control of display parameters, and customer comfort is enhanced by tilt, swivel, pivot, and height adjustments. The PA249Q includes four USB 3.0 ports to enable connectivity with multiple devices at up to ten times the speed of USB 2.0.