A.I. type for Android reads your mind and saves you keystrokes while you type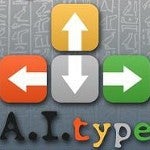 A.I. type is an app in beta mode, available for free from the Android Market. In combination with the Gingerbread keyboard and an Android phone running 2.2 or higher, the app increases your typing speed by making auto-corrections and also by guessing what word you will type next. According to the developer, using A.I. type can save you 75% of the number of keystrokes normally used when typing..
Because the app reaches into the clouds for information, the software doesn't require much storage space. We installed it on a Motorola DROID and found that the program works as advertised. As you are writing a sentence, the program suggests the next word. Just click on the correct word and you have just saved yourself a number of key strokes. The app also supports multiple languages and voice recognition.
If you are familiar with the Swiftkey keyboard, you will find A.I. to be somewhat similar. The difference is that the former comes with its own QWERTY keyboard while the latter uses the Gingerbread QWERTY. If you're not sure about downloading the app, you can check out the video below.
source:
A.I.type
via
AndroidCentral