8 smartphones with unusual rear cameras
39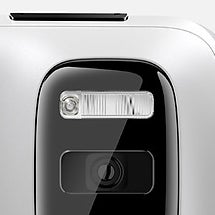 Almost every smartphone nowadays has at least one photo camera, but not many feature rear cameras that make them stand out from the crowd. Most handsets have discrete cameras (so to say), which don't interfere much with the overall design - they just blend in. So we thought it would be interesting to take a look at some of the smartphones that seem to have their design centered around the camera, and not vice versa.
Of course, an unusual camera doesn't necessarily mean a great camera. Even so, you'll probably agree that "great" is a good word to describe at least some of the cameras we're presenting below. If you know any other smartphones that have unusual rear cameras, feel free to tell us about them in the comments.
In chronological order:
Altek Leo
Released in late 2010, the
Altek Leo
was the first Android smartphone to have a camera with optical zoom (3x). In addition to optical zoom, this camera included a 14 MP, 1/2.3" CCD sensor, plus Xenon and LED flashes, occupying a large portion of the handset's rear side. As a smartphone, the Altek Leo wasn't that exciting, featuring Android
2.1
, a
3.2
-inch display with 480 x 800 pixels, and an 800 MHz processor.
Altek Leo preview
.
Nokia 808 PureView
Nokia surprised the world in February 2012, when it announced the
808 PureView
, a Symbian-based smartphone with a 41 MP rear camera - the world's first to use Nokia's PureView technology. The handset has a huge hump on the back (almost 18 mm thick), obviously housing the camera, which includes a 1/1.2-inch sensor with Carl Zeiss optics, Xenon Flash, and LED video light.
Nokia 808 PureView review
.
Nokia Lumia 1020
Released in 2013 as the 808's successor, the
Lumia 1020
also has a 41 MP PureView rear camera. Its sensor is a bit smaller (1/1.5"), though the addition of Optical Image Stabilization significantly improves night photos when compared to the 808. LED and Xenon flashes are, once again, present. The Lumia 1020 is not as bulky as the 808, and runs Windows Phone 8 (or
8.1
, after an official upgrade).
Nokia Lumia 1020 review
.
Oppo N1
Apart from being a giant handset (due to its 5.9-inch 1080p display), the
Oppo N1
is the first Android smartphone to come with a rotating camera - this will act both as a rear camera, and a front-facing one, thanks to a swiveling mechanism that can rotate it 206 degrees around its axis. The camera itself is a 13 MP unit with dual LED flash, but we weren't particularly impressed by it when we tested it last year.
Oppo N1 review
.
HTC One (M8)
HTC's
One
smarthpone from 2013 introduced a relatively new type of camera with a sensor that has UltraPixels instead of Megapixels. This means that the camera uses unusually large pixels, though the images it produces are equivalent (resolution-wise) to just 4 MP. The newer
HTC One (M8)
, which was released this year, uses the same technology, but adds a second camera to the mix - something that we haven't seen before on other smartphones. The Duo camera of the One (M8) allows you to change the focus of your photos after you snapped them. The
Windows-based variant of the One (M8)
comes with the same Duo camera (since it's identical, hardware-wise, to the Android handset).
HTC One (M8) review
,
HTC One (M8) for Windows review
.
Samsung Galaxy K zoom
The
K Zoom
is the successor to last year's Galaxy S4 Zoom, thus being Samsung's newest camera-smartphone hybrid. The rear camera of the K Zoom is a 20.7 MP one with a 1/2.3" sensor and 10x optical zoom - quite impressive (for a phone, that is). Xenon flash, plus a multitude of shooting modes and controls complete the package.
Samsung Galaxy K zoom review
.
HTC Butterfly 2
The
Butterfly 2
takes HTC's Duo camera experience to another level: it ditches the 4 MP UltraPixel sensor in favor of a regular 13 MP one. Thus, the Butterfly 2 can capture more detail in photos, while also letting you enjoy the Duo effects. Moreover (though this isn't related to the camera), the Butterfly 2 is the only handset on our list that's water-resistant (IP57-certified).
HTC Butterfly 2 review
.
Panasonic Lumix CM1
Panasonic's
Lumix CM1
is the latest entry in the camera-meets-smartphone arena. And what an entry! The CM1 has a 20 MP rear camera with Leica lens and a massive 1" sensor - that's something you can't see on any other smartphone. There's no Xenon flash, but you'll be able to shoot in RAW mode, and crank up the ISO to 25,600. The Panasonic Lumix CM1 runs Android KitKat, and should be available to buy starting November. Other than the promising rear camera, the device features a 4.7-inch 1080p display,
2.3
GHz quad-core Snapdragon 801 processor, 2 GB of RAM, and 16 GB of expandable storage space.