72% of potential tablet buyers want an Apple iPad
57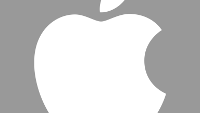 ChangeWave uses surveys of potential device buyers to see what models they are eager to buy. After talking to 2480 consumers, mostly in North America, the results should make the executives in Cupertino jump for joy. Nearly 3 out of 4 potential tablet buyers (72% to be exact) are planning on plunking down their cash in return for an Apple iPad. That is up sharply from the 55% who said the same thing in August.
The potential demand for the Apple iPad is 8 times greater than for a Samsung branded slate. 9% of those surveyed plan on purchasing a Samsung tablet within the next 90 days, matching the 9% who have a
Nexus 7 (2013)
or
Nexus 10
in mind. 8% plan on buying the
Microsoft Surface 2
while just 5% plan on buying an Amazon Kindle Fire model.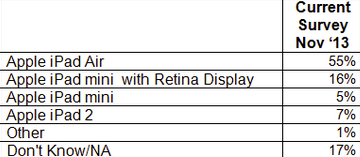 Apple iPad buyers are gasping for Air
Ok, so we've established that 72% of potential tablet buyers want an iPad. Of those committed to Apple, which model are they going to buy? A resounding 55% will be buying the Apple iPad Air while just 16% are thinking abut the Apple iPad mini with Retina Display. That number might have been higher except for the limited number of units available. That appears to be changing. The lead time for the iPad mini with Retina display has dropped from 5 to 7 business days down to just 1 to 3 business days.
Lastly, the Apple iPad Air has obviously been a huge success for Apple. A chart from Fiksu shows that the newest full-sized Apple tablet is closing in on accounting for 4% of all active Apple iPads 42 days after its release. Compare that to the 2% scored by the
fourth generation iPad
42 days into that tablet's launch.
source:
ChangeWave,
Fiksu
via
Forbes