64GB iPhone 4 prototype handled on video, we might see such capacity in this year's iPhone
4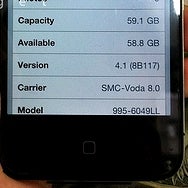 We
reported
yesterday about a few 64GB "engineering sample" iPhone 4s supposedly available in Hong Kong's grey market.
Now one of these has been handled on video, and it looks like the real deal, moreover we might see this capacity in the next iPhone, the source says.
The 64GB prototype hasn't been obtained from the mysterious "Hong Kong grey market", but is rather obviously a leak from
Foxconn
, the iPhone 4's manufacturer, which makes much more sense. The serial number below shows that the unit has been created in early 2010, before the iPhone 4 was introduced, probably just for testing purposes.
The sample has
XXG
B written on the back, and a lot of other Xs as a model number, which confirms that this is a prototype, similar to the one found
lost in a bar
last year. The guy that had those units mentioned that's a capacity we will be seeing with the next iPhone.
Apple entered a multibillion dollar
agreement
with Samsung for displays, flash memory, and other components supply this year - hopefully it managed to knock down the wholesale prices of the 64GB chips to bearable levels, so we can have plenty of room for recording these Full HD 1080p videos the
dual-core Apple A5
should be capturing with ease.
source:
M.I.C Gadget