Apple shelling out $7.8 billion to Samsung on a screens and flash memory supply deal
6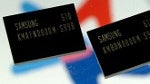 In a move that makes it the largest single customer of Samsung Electronics this year, Apple is securing future supplies of Sammy's excellent mobile displays, processors, and NAND flash memory, as per Korea Economic Daily.
Apple has been locking up large flash memory supplies from Samsung a few times before, in order to secure steady supply and low prices, but this deal tops it all. It might also mean higher prices for competitors as Samsung makes a large chunk of the world's flash memory production.
It would be interesting to see the deal details, especially in its screen part. We put two and two together the other day that we might see Samsung's new PLS LCS technology in a
third generation iPad
this fall, and this deal is certainly not doing anything to dispel this speculation.
Nothing is mentioned about AMOLED screens, so it might be a safe bet that the next iPhone this year will again have a liquid crystal display. What's more, this also pours more water in the rumor mill about the
smaller, cheaper iPhone
, which is sure to sell in droves, and require a large components deal upfront.
via
MarketWatch
Recommended Stories