5 unique smartphones that break the mold (2016)
17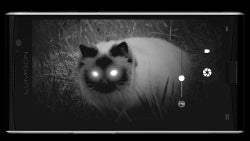 With smartphones turning into a commodity, one would think that fresh ideas are becoming rare. The paradox is, that's both correct and not at all the case—at the same time.
Sure, major manufacturers have long settled on a rough sketch of what we'd call the mainstream smartphone, but at the same time, this is inspiring start-ups and goofy engineers the world over to try and shake things up; to offer a wholly new and unique perspective on what our pocket computers could be. Obviously, while some of these ideas are met with enthusiasm from techies, the market realities are such that these almost always end up as ultra-niche products.
And of course, we'd be remiss if we didn't note that even established makers dabble into some more unique ideas, the likes of LG, Motorola, and even Samsung, coming to mind. But these are only a small part. Here's what the world's enthusiastic vision of the future looks like so far in 2016:
Cat S60
| | |
| --- | --- |
| Display | 4.7" LCD, 720 x 1280 |
| Hardware | Qualcomm Snapdragon 617 with 3GB RAM |
| Camera | 13MP, FLIR Thermal Camera |
| Battery | 3,800mAh |
Pros
Thermal camera
Water-resistan and dust-proof
Shock- and vibration-resistant
Resistant to extreme temperatures
Very large battery
Remember the
FLIR One
? Probably not. Well, what started out as an accessory (a case, to be exact) for the iPhone 5 and 5s has since grown into an integrated tech featured in the
CAT S60
—a phone by Caterpillar Inc., which specializes in heavy industry equipment, including lifestyle items.
So what does the FLIR One—and now the CAT S60—has going for it to make it unique? Simple: the phone can do thermal imaging, which sounds all kinds of useful if you're a professional in fields such as maintenance or construction, allowing you to spot gaps in insulation, the ability to monitor machinery, and others.
The CAT S60 is also water-resitant up to 5 meters and can withstand drops from up to 1.8 meters (nearly 6 feet). Add to the list features such as being impervious to dust, resistant to shock and vibrations, and the ability to operate in extreme temperatures, and you've got yourself one rugged, useful, and not half-bad smartphone.

Lumigon T3
| | |
| --- | --- |
| Display | 4.8" Super AMOLED, 720 x 1280 |
| Hardware | MediaTek Helio X10 with 3GB RAM |
| Camera | 13MP, PDAF; secondary front, 4MP camera with dual IR flash |
| Battery | Unknown |
Pros
Night vision camera
Water-resistan and dust-proof
Stylish design
Touchpad on the back
Fingerprint scanner
As long as we're on the topic of unique cameras on smartphones, we ought to mention the recently released
Lumigon T3
.
The work of a Danish company, the Lumigon T3 is encased within a molybdenum stainless steel body, is dust- and water-resistant, and features Corning's Gorilla Glass 4 for display protection. The phone is also available made out of 24k gold.
A decently spec'd out phone, the T3's standout feature is undeniably its night vision camera. The 4-megapixel unit works in tandem with a dual infrared flash, allowing it to snap black-and-white photos. Even in the night, the dedicated camera will pierce through the darkness with ease, letting you take snaps that would otherwise be impossible—or at least unfeasible.
Fairphone 2
| | |
| --- | --- |
| Display | 5" LCD, 1080 x 1920 |
| Hardware | Qualcomm Snapdragon 801 with 2GB RAM |
| Camera | 8MP with flash |
| Battery | 2,420mAh |
Pros
The ethical phone
Spare parts and DIY guides directly from Fairphone
Capable processor
Cons
Strong ethics cost money
Unsightly
Uninspiring camera
No fancy cameras adorn the Fairphone 2, nor are there any extremely valuable materials used in its construction. It's actually rather plain-looking.
But true to its name, Fairphone is... fair. Fair to who, you wonder, and the answer is deceptively complex, but here it is in a nutshell:
Fairphone, the company behind the phone itself, is dedicated to building, designing, manufacturing, and sourcing materials only in a way that would be considered ethical, ecology friendly, and conflict-free. This means that the base materials that go into a smartphone, such as gold, tin, tantalum, and others, are all sourced from what Fairphone deems responsible companies and locales, while manufacturing plants churning out Fairphone 2's are regularly inspected to ensure safe working conditions, fair wages, and proper worker representation.
It's a unique phone, to be fair.
Moto Z Force
| | |
| --- | --- |
| Display | 5.5" AMOLED, 1440x 2580 |
| Hardware | Qualcomm Snapdragon 820 with 4GB RAM |
| Camera | 21MP, PDAF, dual LED |
| Battery | 3,500mAh |
Pros
Shater-proof display
Flagship-level internals
Very large battery
Added functionality through MotoMods
Very thin
It's not often that we get so many unique features with a single smartphone, but the Moto Z Force is certainly that—unique. Not only does it feature a
ShatterShield display
, meaning that Motorola
guarantees
it won't break upon impact (and if it does, it'll be replaced for free), but the thing also comes with a plethora of add-ons called MotoMods.
MotoMods are, in a nutshell, a lot alike to cases. But they're plenty cool, with one integrating a projector, while another, JBL-made one, focuses on audio quality and boosts loudspeaker volume immensely. That one also comes with a built-in battery for even more endurance. In addition to these, Moto is expected to bring a Hasselblad-made MotoMod camera add-on, presumed to offer physical camera keys and perhaps even optical zoom.
LG G5
| | |
| --- | --- |
| Display | 5.3" LCD, 1440x 2580 |
| Hardware | Qualcomm Snapdragon 820 with 4GB RAM |
| Camera | 16MP+8MP wide-angled camera, laser auto-focus |
| Battery | 3,000mAh |
Pros
Loads of accessories to play around with
Wide-angled camera can be useful
Great performance
Cons
Design is an acquired taste
CAM Plus module isn't that comfortable
Alike to the Moto Z Force, the LG G5 came to the scene in early 2016 offering two unique features: modularity and a dual camera setup which allowed for extremely wide-angled photos.
Starting with the modules, which LG calls Friends, the G5 has a few of them readily available, already. The Hi-Fi Plus, by Bang & Olufsen, for example, is aimed at the audiophiles at heart, while the Hi Fi CAM Plus adds some much needed grip and physical camera buttons, including a zoom jog. The LG G5 is also complemented by original LG accessories, including the LG VR headset, the robotic LG Rolling Ball (coming soon), and the LG 360 Cam.
Going back to the camera, it's a dual sensor setup, but both operate independently from each other. There's your main, far superior, 16-megapixel snapper for your everyday adventures, and then there's the ultra wide-angled, 8-megapixel unit that opens up a number of creative uses by allowing you to fit a lot more of the scene into a single shot.