FLIR One brings thermal imaging to your Apple iPhone 5s or iPhone 5
7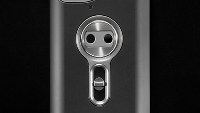 Wouldn't it be cool to be able to see in the darkness of the night? Suppose we told you that the FLIR One slips on the back of your Apple iPhone and includes a visible camera and a thermal imaging one. With the latter camera turned on, it is like having night vision capabilities on your iPhone. And don't worry about it killing your battery life, the FLIR One comes with a self contained battery that lasts for four hours.
Of course, there is an app that goes with the system, and can give you precise temperature readouts and it even lets you control the colors on the display. FLIR has spent a couple of years (and probably a lot of money) with the R&D behind the camera, which it calls Lepton. One day, a camera like this might be found on all smartphones, built into the hardware.
The FLIR One is compatible with the
Apple iPhone 5s
and the
Apple iPhone 5
. This year, the company will release an SDK for developers to build apps for the technology. While pricing isn't disclosed, the case will cost less than $350 and you can register your email address so that you can be notified when the FLIR One is ready to be ordered. To do that, all you need to do is click on the sourcelink.
source:
FLIROne
via
CNET