5 new and cool Android launchers and interface tools (April #2)
8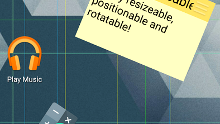 If you put enough time and effort, they say, you can tailor every Android phone to serve your unique interests and interface layout, and third-party launchers like Nova, Apex and the like, have proved it time and again.
Every once in a while, a new launcher appears that promises a paradigm shift in interacting with our mobile devices, utilizing innovative gesture-based or side-sliding launch tech, and some of them are even donning amazing graphics and extra functionality.
We took a glimpse at what's new and cool or updated fine at the Play Store in the interface draping department for the past two weeks, and noticed a few launchers and interface tools that you might find useful, or at least funky to try out. Check them out below.
Hybrid is a welcome change in the sea of me-too launchers, and unlike anything you've seen so far - you can have actual files on the homescreen of your phone your tablet, just as you do on the desktop. You can position them everywhere, too, even place them in an unorthodox diagonal way, with optional grid or magnetic axes. Hybrid offers links to other folders and files, and even an "Open with" dialog, just like on your computer. That's not all, though - you can run shell scripts directly, and the full paid version brings notification counts to the table for two bucks.
Launcher 10 Prime is the latest promising paid version that offers dock styling and swipes, weather effects that transition to everything down to your app icons, and rich gesture support - you get pinch, swipe, two-finger swipe, clockwise and anti clockwise rotation, as well as the obligatory double support. The Prime version unlocks a nice transparent status bar, and numerous scrolling and unique transitional animations. In addition, Launcher 10 Prime sports the useful shutter function that can open tens of widgets with a simple homescreen swipe.
Phrog arrives to your homescreen with a nifty swipe to serve as your social network for curated app recommendations, default launcher, and app sharing tool. You can choose from more than 80 profiles of experts to follow those in your area of interest, like apps, set game filters, and, of course, "like" apps from within Phrog.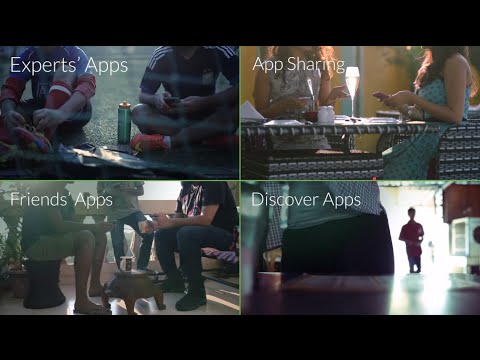 Flip is meant for advanced users of HTC's latest Sense 6 interface version, who want even more functionality out of their homescreen management. Quick Flip is a feature that is triggered by Home assist. Simply swipe up from the home button on your nav bar to trigger home assist. By default, this would launch Google Now but you may now launch Flip from this gesture. Once triggered, Quick Flip will launch a small window with your installed launchers, and allow you to quickly navigate from one launcher to another. This option may also be triggered by a notification in your status bar, and can be turned on or off by the user in the settings of the app.
Prefabricated choices? We'll take it, Infinity Launcher. Fast and lightweight, Infinity offers preset arrangements for your homescreen, which consists of your profile picture and cover from one of your social networks, your appointments, weather and quick settings, and at the bottom your favourite apps chosen by you. Also quick access to all your other apps through an app drawer which slides in from the side. And as a bonus there is a matching Android Wear watch face.
Bento plans to go much deeper with the timely snippets of information available to you at any given moment. The gist of it is in the short video below, but Bento will have suggestions to you from the moment you wake up (weather, breakfast places), and throughout the day, digging up relevant apps you might have even forgotten you've installed on your phone, based on the occasion and location, too. Thankfully, it doesn't try to guess everything seamlessly like Google Now, but actually asks about your work and home locations, for instance, upon initial setup. Then it proceeds organizing your apps in groups, or "spaces," on separate screens automatically, but you can revamp those at will, too.
The "cards" it will use for popular tasks are actually standalone entities - you don't need to have YouTube installed to enjoy the YouTube card, for instance, but can have the full functionality and interaction within Bento itself. The services that are listed at the moment, are as follows: Weather, Calendar, Reddit, Uber, Yelp, SoundCloud, YouTube, Notifications, Lyrics, Events by Seatgeek, ESPN CricInfo, and contextual app recommendations - with many more to be added when the Bento launcher gets out of beta.
Recommended Stories