5 iPhone and Android health accessories to keep your blood pressure, glucose and weight in check
1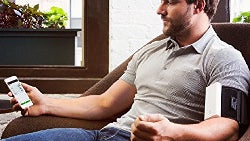 Eat less, run more. Sounds like a good enough recipe to keep your weight and other vitals like blood pressure, resting heart rate and glucose levels in the healthy range, but it is much easier given as an advice than done.
More and more people are turning to their go-to gadget - the smartphone in their pocket or purse - for extra tips and motivation even when something as physical as fitness is concerned, and the health industry is certainly taking note. There is no way that you have missed those runners in your local park that are strapped head to toe in digital fitness armbands or bracelets, smart watches and the like, but those are not the only health and fitness oriented accessories out there.
In a recent interview, the CEO of a certain company from Cupertino said that healthcare opportunities are "enormous," and with the
Apple HealthKit
, the company is firmly positioned to take advantage of each and every wellbeing accessory that pops up. Today, one can follow all their vitals at home, armed with just a few accessories that we list below, and a smartphone that allows an integrative approach to health monitoring, as well as sharing of vital stats with your primary care physicians before a problem arises. Here are some of the best accessories for tracking personal health with the help of your brainy handset that the market currently offers.