5 augmented reality games to play on your smartphone when you get tired of Pokemon Go
1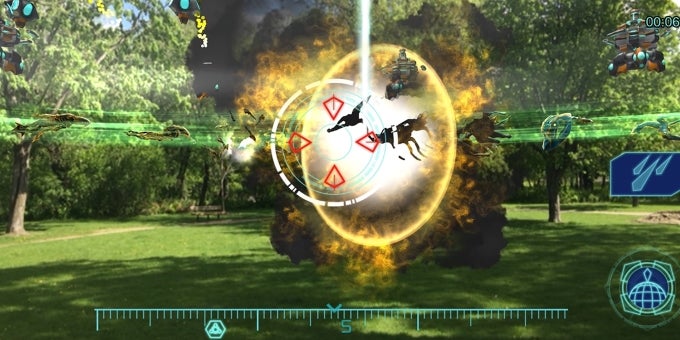 Clandestine Anomaly – no Pokemons here, but plenty of vicious aliens to fight...
To say that Pokemon Go has been a smashing success would be an understatement of epic proportions. More people are playing it on Android than there are Twitter users on the platform, and that's got to say something! We're not going to kid ourselves here, chances are you're too busy hunting adorable Nintendo animals to consider taking a crack at other augmented reality games. But they do exist, and they are no less fascinating!
While their plot, visuals, and gameplay concepts differ significantly from the poke-hunting title, they still share the common premise of making you get out there and do stuff as instructed by your phone. Clever game developers have come up with all sorts of imaginative ideas – from bona-fide exercise apps posing as an apocalyptic survival horror adventure, to AR action strategies that turn you into the commander of massive battle forces.
When you feel like taking a break from the hectic catch 'em all action, check out what else is out there in the selection below.
Zombies, Run!
The game that makes you run from the undead swarm gone after your yummy brains...
Granted, there's quite a difference between hunting for pokemons and being hunted from zombies. But the more important part is that Zombies, Run! is too a location-based game that's going to get you moving! Played by over 2 million zombie runners over the world, it asks you to prep up, put on a pair of headphones, and go outside for a jog. Just as your heart's about to start racing, you'll hear the undead rise with their guttural breaths, rattling groans, and abhorrent shrieks. There's too many of them – the only option is to run! And in this game, every run is a mission where you are at the center of your own zombie survival adventure. As you dash forwards to the tune of rabid zombies and your expertly crafted workout playlist, you'll automatically puck up supplies and items to grow your base, which is one of the last human establishments remaining after the apocalypse.
Parallel Kingdom – Age Of Ascension
Become the commander of your own prosperous or deadly empire.

If you like fantasy more than you do Pokemon, you can try this old title here. Parallel Kindgom is a location-based MMORPG that lets you enter its magical world wherever you are, be it at home or on the streets. Be the ruler of your kingdom and lead it towards a new age of peace and prosperity, or build history's most fearsome army and raid the world's greatest cities – it's up to you.

The game includes over 40 levels with 50 different skills to choose among, as well as 14 character classes, 8 epic dungeons scattered across the game world, and a personal airship to lead your loyal crew members into the mortal play of combat. To complete the package, there are fully customizable avatars, global PvP rankings, world-shaping Kingdom wars, and player-to-player trade hubs.
Unfortunately, the game appears to have been abandoned by the developers, so you might not be able to get the best of it at this very moment. But we encourage you to try it nevertheless!
Ingress
The breakthrough AR game that served as the basis for Pokemon Go!

Ingress is a groundbreaking augmented reality game made by the Pokemon GO creators at Niantic, and used as the latter's technological basis. The story involves a mysterious energy, which researchers believe influences how we think. A society called "The Enlightened" wants to harness its power for itself and use it to conquer the world, while "The Resistance" fights to prevent this from happening and protect what's left of humanity.
What's your place in this dire situation? Put Ingress on your phone and go outside on a mission to discover and tap into sources of this strange force. Acquire objects to help in your quest, deploy various items and technologies to capture territory, and team up with other players to help the cause of the Enlightened, or the Resistance – the choice is yours.
In addition to participating in the salvation/enslavement of humanity, Ingress will let you track the progress of other players from your alliance as you plan your objectives and communicate them via the in-game Intelligence map. Meanwhile, an online Investigation Board will have you cracking at cryptic clues and secret codes as part of the ever-evolving story. You will also unlock powerful secrets and technologies as you progress.
Clandestine Anomaly
Lead the Earth defense force against the alien invasion happening everywhere around you!
If augmented reality strategic warfare is what you're after, this game might interest you. In Clandestine Anomaly, players are tasked with defending their real-world city from vile alien invaders. Your warm welcome to the game world involves a mayday hail from an alien vessel headed towards your neighborhood at breakneck speed. If you don't respond immediately, the situation will go catastrophic as the ship crash-lands on Earth, obliterating everything in its surroundings. Along with this, the "alien software" deployed on your mobile device will expose the hidden alien-human conflict everywhere around you!
As you go on to save the planet, you will be building war structures to launch attacks and defend your neighborhood while a covert Earth defense organization will work with you to prevent a planet-wide infection. You can direct battles at your bedroom-turned-Earth defense command center, or take the fight to the streets by visiting real-world locations and deploying explosive airstrikes.
SpecTrek
Augmented reality ghost hunting – and no, we're not talking about Casper, the Friendly Ghost...
SpecTrek is a rough-around-the-edges oldie that still deserves a play-through if you want to experience one of the first worthy examples of augmented reality on mobile. In short, this is a ghost hunting game that will have you explore your surroundings on the lookout for Casper's less-polite friends, armed with your phone's GPS map and camera. The game tracks your progress with statistics, awards, titles, and records, so racking up your ghost-busting score sure sounds fun!
Oh, and according to its creators, the game is more immersive than Pokemon Go. Right on time, guys, right on time!
ALSO READ