GoChat is the location-based chat app that Pokemon GO is missing
3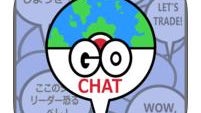 It's not always terribly hard to recognize people out in public who are playing Pokémon GO, especially since they'll be doing the same exact thing with their smartphone as you are in the same general area. But even so, one of the few features that Pokémon GO didn't copy over from its predecessor Ingress was an in-app chat system, but for that GoChat has you covered.
Basically, GoChat sets up each Pokéstop can be set as a pin on the map and each pin becomes a location-based chat room where you can chat with anyone nearby when you're at that spot. And, once you've met the people nearby, or if you want to get to know someone who posted in a certain location chat, you can long-press on a user to direct message them to trade tips or coordinate Pokémon hunts for a later time.
In general, it sounds like a really great companion app to Pokémon GO. The biggest pitfall of GoChat is that it appears the developer, Jonathan Zarra, didn't realize how popular it would be. Zarra knew as a beta tester of Pokémon GO that a chat function was needed, but in the first five days GoChat was available it gathered 1 million downloads, which has led to server overload and errors.
The biggest issue is that Zarra hates ads and so he didn't include them in the app and he doesn't want to say how much he's spending on trying to keep up and running so far. A contractor told
The Verge
that in order to get servers to keep up with demand would cost Zarra $4,000. Unfortunately, that's $4,000 he doesn't have by providing a free app with no revenue system.
We're hoping Zarra can sort it out, because it is a needed companion app for many.