4K video heat test with Xperia Z5 hints that its Snapdragon 810 can keep its cool
30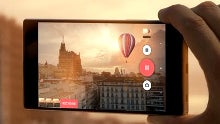 While some might have been frothing at the mouth why did Sony go with Snapdragon 810 for its latest and perhaps the greatest ever batch of smartphones - the
Z5
,
Z5 Compact
, and the amazing
Z5 Premium
with a 4K display - it seems all is well with the chipset version that Sony is using. As you can see in the 4K video recording test with the Xperia Z5 below, the phone reaches the predetermined video duration without any issues or warnings that often happen when you try to record in this ultra high definition.
Granted, the Snapdragon 810 chipset might have still been
thermally throttled
, and yet Sony knows the issues with Snapdragon 810, and has probably put the phones through extensive testing, and/or applied some thermal management techniques such as better heat dissipation layout and thermal layers inside. Whatever it is, it seems to be working, though we'd have to put the phones through some more stress tests before it can be determined if this latest Snapdragon 810 version inside has overcome its issues with the degrees.