$30 Unlimited Data plan offered by MetroPCS comes with a major catch
22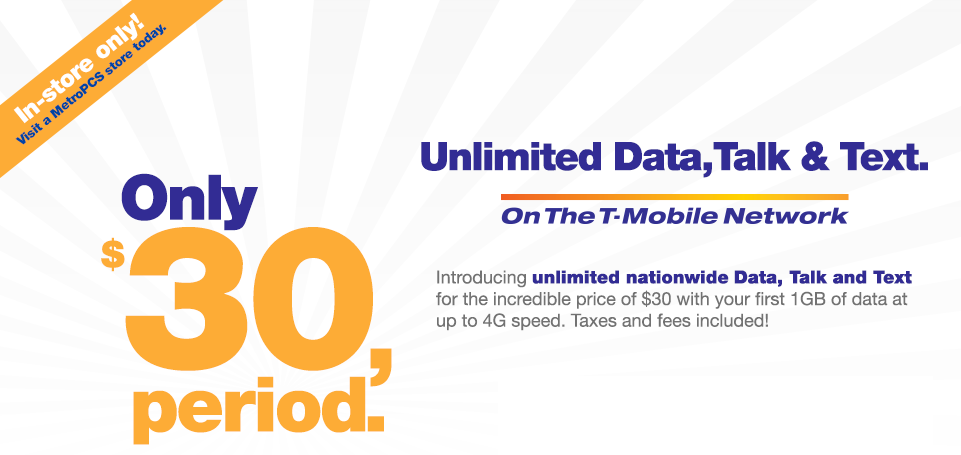 MetroPCS is offering unlimited talk, text and data for $30 a month with a major catch
Pre-paid carrier MetroPCS announced today a new $30 a month plan that offers unlimited talk, unlimited text and unlimited data. However, there are some caveats. The first 1GB of data used is available at 4G speeds. Once you exceed that amount, your data is sent to you at "
average MetroPCS network speeds for the rest of the billing cycle
." You can be darn tootin' that this means a data speed slower than 4G.
Additionally, the phone that you are using for this plan has to be one purchased directly from MetroPCS or an authorized dealer. The device has to be GSM compatible and support 3G or 4G speeds. Phones with 4G LTE connectivity are not acceptable. The handsets offered by MetroPCS that will work with the plan include the
LG Optimus F60
($49),
Samsung Galaxy Light
($49),
ZTE Zmax
($99) and the
Samsung Galaxy S5
($589). Remember, no two-year contract means no subsidized handset.
Keep in mind that this is not a permanent offer, although once you sign up you will get to keep the plan until you change to a new one. If you don't use more than 1GB of data each month (perhaps you are very astute about the use of Wi-Fi) or you don't care how fast your data travels, this plan might be appealing to you. The $30 a month plan is available only at MetroPCS locations and cannot be purchased online.
source:
MetroPCS
via
CNET