2014 should see a phone powered head-to-toe by Qualcomm
6
Most of our loyal readers are familiar with Qualcomm. The silicon slinger's Snapdragon chips are well known for powering mid to high-end handsets. Besides the famous processors that spec shouters are always using to compare phone models, Qualcomm also provides baseband chips that handle radio based signals.
Between the antenna and baseband lies the RF components. This is an area that Qualcomm wants to get involved in. Currently, it is the space belonging to RF Micro Devices, Avago Technologies and Skyworks. Last February,
Qualcomm announced the RF360
which is a solution that takes up less space, uses less power, and supports more LTE bands.
The RF360 is a combination of four different parts.So far, it has managed to appear in the
Nexus 5
and the
Samsung Galaxy Note 3
as an envelope tracker, which lessens the amount of power a phone uses to connect to the tower. The
Nokia Lumia 1520
uses the antenna tuner from the RF360. The main part of the RF360 is a 3D circuit called the RF Pop that supports 40 2G, 3G and LTE bands when combined with a Qualcomm baseband chip.
The RF Pop and a power amplifier will be making their way into new phones this year. That means we will have in 2014, a smartphone powered from head to toe by Qualcomm. Cristiano Amon, EVP of Qualcomm, says that the RF360 can reduce the number of vendors a phone manufacturer needs by 33% to 50%. Apple would be able to cut the number of different iPhone variants it offers from 5 to 2. And Qualcomm's goal is to get that number down to one.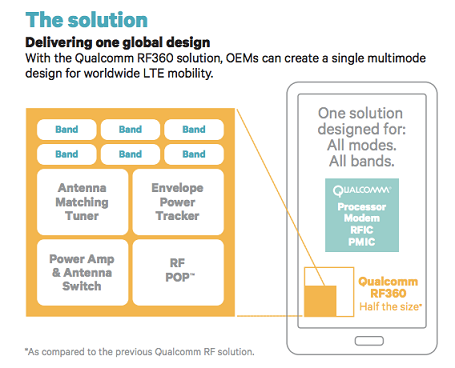 Qualcomm's RF360 RF component provides more power in less space
source:
GigaOM