2014 'mini' flagship versions roundup: which one would you get?
78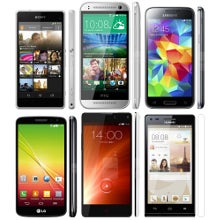 Look, man, yet another "mini" version of a popular flagship handset! Samsung just unveiled its inevitable Galaxy S5 mini edition, all decked up in the perforated look of its bigger brother the S5, mimicking its every curve, and hoping to capitalize on the flagship's popularity. After all, why not equip it with a fairly small HD screen of your own making, put a processor that smartwatches run on now, and then charge just 20% below the flagship's price - hey, it's just like it, but for people who love their handsets smaller.
We kid, but Samsung arguably started all that "mini" craze with the S III mini, and hasn't looked back since. This prompted all other major manufacturers, and even some more obscure ones, to feel obliged to outing a "mini" variation of their flagships. The trouble is that, with only a few exceptions, these "minis" come with a price that is not worth a second look, if it wasn't for the naming scheme, and the visual resemblance to their respective flagship sidekicks in the store.
To illustrate that point, we are rounding up all the current 2014-crop minis below, and by the time you reach the last one, it becomes abundantly clear why manufacturers are doing this drill each and every time now. In addition, we are waiting on an eventual LG G3 mini, which is rumored to come with a 4.5" or 5" HD panel, depending on which speculation you believe, Snapdragon 400, and an 8 MP camera. An Xperia Z2 mini version isn't out of the question either, but there's not much heard on this front just yet. Check the list out, vote which of the current ones would you pick, if you had to choose, and tell us what is your general opinion on the "mini" craze in the comments.