15 best new Android and iPhone apps for kids: November 2012
7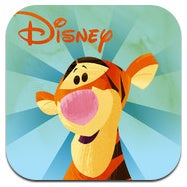 Once upon a time, in a faraway land, there was a tiny little thing that both parents and their kids loved. And as this year passed and the Holidays approached this tiny little thing started appearing in every parent's pocket. Grandma and grandpa got one too. But it was kids who wanted it most, and they were the ones who would learn how to use it in minutes and cry every time you try to take it away from them.
Yep, this short lyrical introduction is all about the smartphone, the only one device in the house your kids probably want to use more than you do. And we are sure the same applies for tablets.
And that's no coincidence. We have some brilliant application for kids for the Holidays, that might not replace books, but are definitely as addictive.
And trust us, even you as a grown-up should check out this list.
We've included interactive books, games and puzzles, starting from apps for the littlest to toddlers, and older.
Most of the apps are really great looking and entertaining, and we've done our best to cherry pick the best out there on app catalogs to help you entertain yourself and junior these Holidays.
Don't hesitate to let us know which apps did you download and which apps your kids loved the most? Got any other favorites? Let us know about them in the comments right below.
Best new Android and iPhone apps for kids