1.2 billion iPhone handsets have been sold since the device launched in 2007
66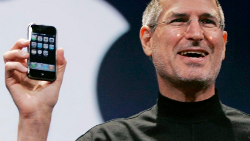 During his conference call yesterday,
made in the aftermath of Apple's third fiscal quarter earnings announcement
, CEO Tim Cook revealed that Apple has sold 1.2 billion iPhone handsets since the iconic device first launched in June 2007. Last year at this time, Apple announced that it had sold 1 billion units of its smart handset since 2007. That means that over the last year, 200 million iPhone models have found a home.
Cook pointed out that current iPhone sales have been impressive, especially at the high-end of the lineup. Sales of the top-shelf
Apple iPhone 7 Plus
outpaced the previous year's sales of the
Apple iPhone 6s Plus
, which was the company's top-of-the-line smartphone in 2015. Some of the increase in sales could be due to the dual camera setup, which debuted with the iPhone 7 Plus.
"iPhone results were impressive, with especially strong demand at the high end of our lineup. iPhone 7 was our most popular iPhone and sales of iPhone 7 Plus were up dramatically compared to 6s Plus in the June quarter last year. The combined iPhone 7 and 7 Plus family was up strong double digits year over year."-Tim Cook, CEO, Apple
In addition to the excitement over the iPhone's tenth anniversary, smartphone fans are eagerly awaited the unveiling of the
Apple iPhone 8
. To celebrate a decade of iPhone, this premium model will be the first handset coming from the tech titan to feature an OLED panel carrying an edge-to-edge screen. With no buttons expected on the device, Apple will use a special 3D scanner to allow facial recognition to unlock the phone and verify identification. This technology replaces fingerprint scanner Touch ID, which Apple had hoped to place under the touchscreen, but was unable to do so.
Back in 2007, Apple reinvented the smartphone
source:
RedmondPie
Recommended Stories