Huawei Band 7 Review
2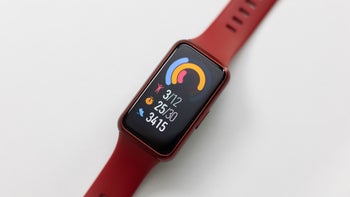 Although we often speak about smartwatches like the latest
Galaxy Watch 5
and the
Apple Watch Series 8
, smart bands also have their place in this world. They are perfect for people who want to stay healthy and keep track of their fitness goals but don't want to pay a hefty price for a fitness tracker. Also, since smart bands are smaller and lighter than smartwatches, they don't get in your way, and sometimes you can forget that they are on your wrist.
We can firmly say that the Huawei Band 7 perfectly fits that description. It has a lot of the features you would want from a
fitness tracker
, and with its compact form factor, it doesn't get in your way during a workout. Compared to the Huawei Band 6, the new smart band from Huawei is lighter, slimmer, and comes with a few new features.
If you are wondering, the price of the Huawei Band 7 is $59.99.
What's new with the Huawei Band 7
Slim and Lightweight design
Always On Display
New strap connector
Quick Replies
Table of Contents:
Huawei Band 7 Unboxing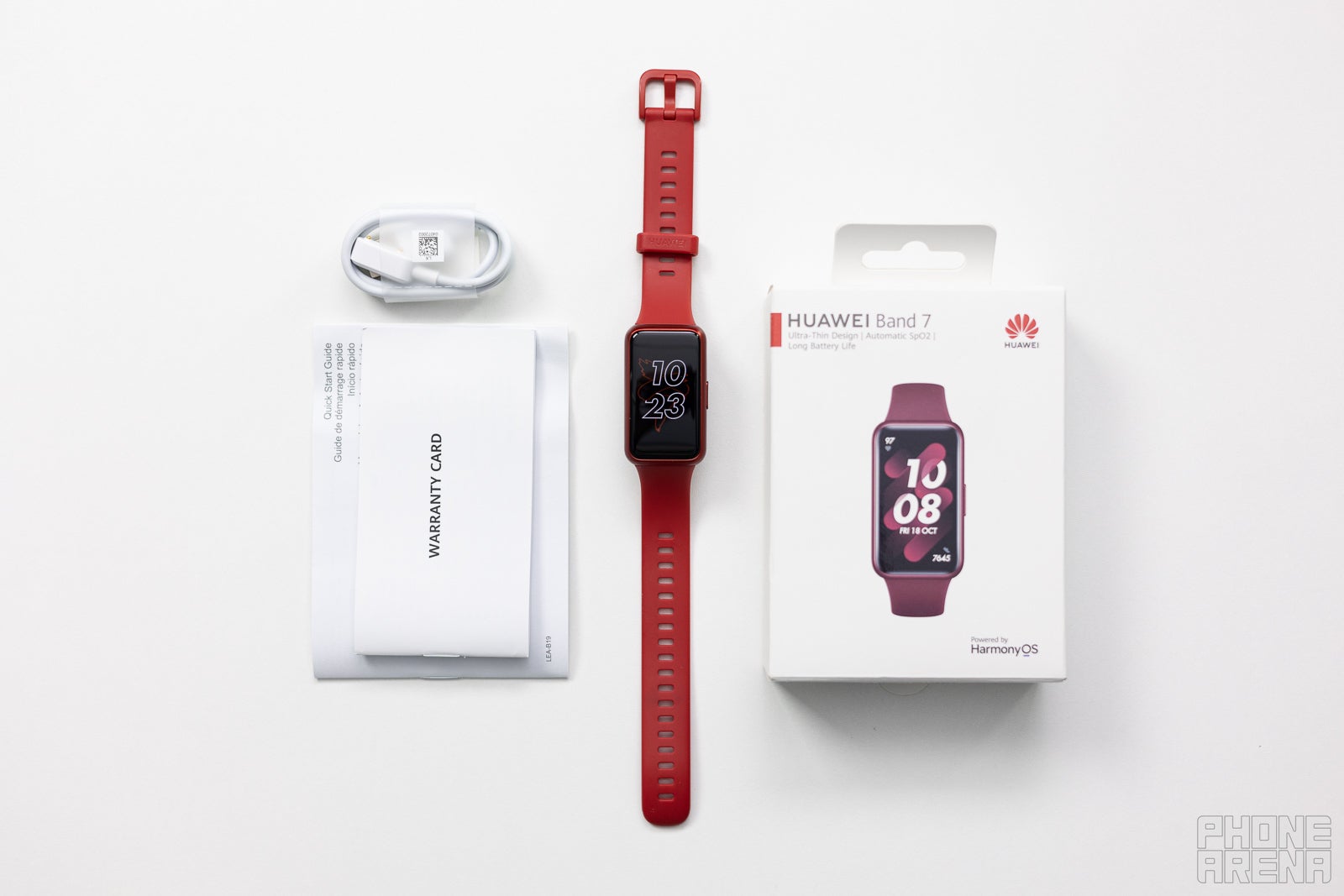 Huawei Band 7's unboxing experience is fairly simple. In the box, you only have the band, a charging cable, and some documentation.
Huawei Band 7 Specs
Here are the specs of the Huawei Band 7:
| Specs | Huawei Band 7 |
| --- | --- |
| Models (Size, Weight, Prices) | 44.35 x 26 x 9.99 mm, 16 g, $59.99 |
| Software | HarmonyOS |
| Battery and Charging | 5-6 days of battery life, full charge in around 53 minutes |
| Sensors | Accelerometer, Gyroscope, Optical heart rate sensor |
| New features | Always On Display, Quick Reply (on some popular apps) |
Huawei Band 7 Design
At first glance, there are no noticeable differences between the Huawei Band 7 and the Huawei Band 6. However, if you pick them up and look closer, you will notice that the Huawei Band 7 is lighter, thinner, and slightly taller than its predecessor. That's because it weighs 16 grams, is 9.99mm thick, and has a 44.35mm height.
In comparison, the Huawei Band 6 weighs 18 grams, has a 10.99mm thickness, and a height of 43mm. Despite the slight size changes, the Huawei Band 7 still has the exact same 1.47-inch AMOLED display found in the Huawei Band 6.
In day-to-day use, the Huawei Band 7 feels light. Because it has a wider display than, let's say, the Xiaomi Smart Band 7, the navigation between the menus is easy. Its case is made out of "Durable polymer materials," which means it's made out of plastic. It comes in dark gray, gold, green, and red.
Huawei Band 7 Software & Features
Huawei's new fitness tracker runs on HarmonyOS, which is the company's proprietary software. The UI and the menu navigation are the same as on the Huawei Band 6. Here too, in order to pair the Huawei Band 7 with your phone, you will need to install the company's Health app.
When paired to your device, the Huawei Band 7 lets you control the playback of the music you are listening to. It will also vibrate when you receive notifications, but you must enable the feature from the Health app manually and choose which apps can send notifications to your band. It doesn't have a microphone and a speaker, so you can't answer calls, but you can reject them or send quick pre-written replies, which is a rare feature at this price tier.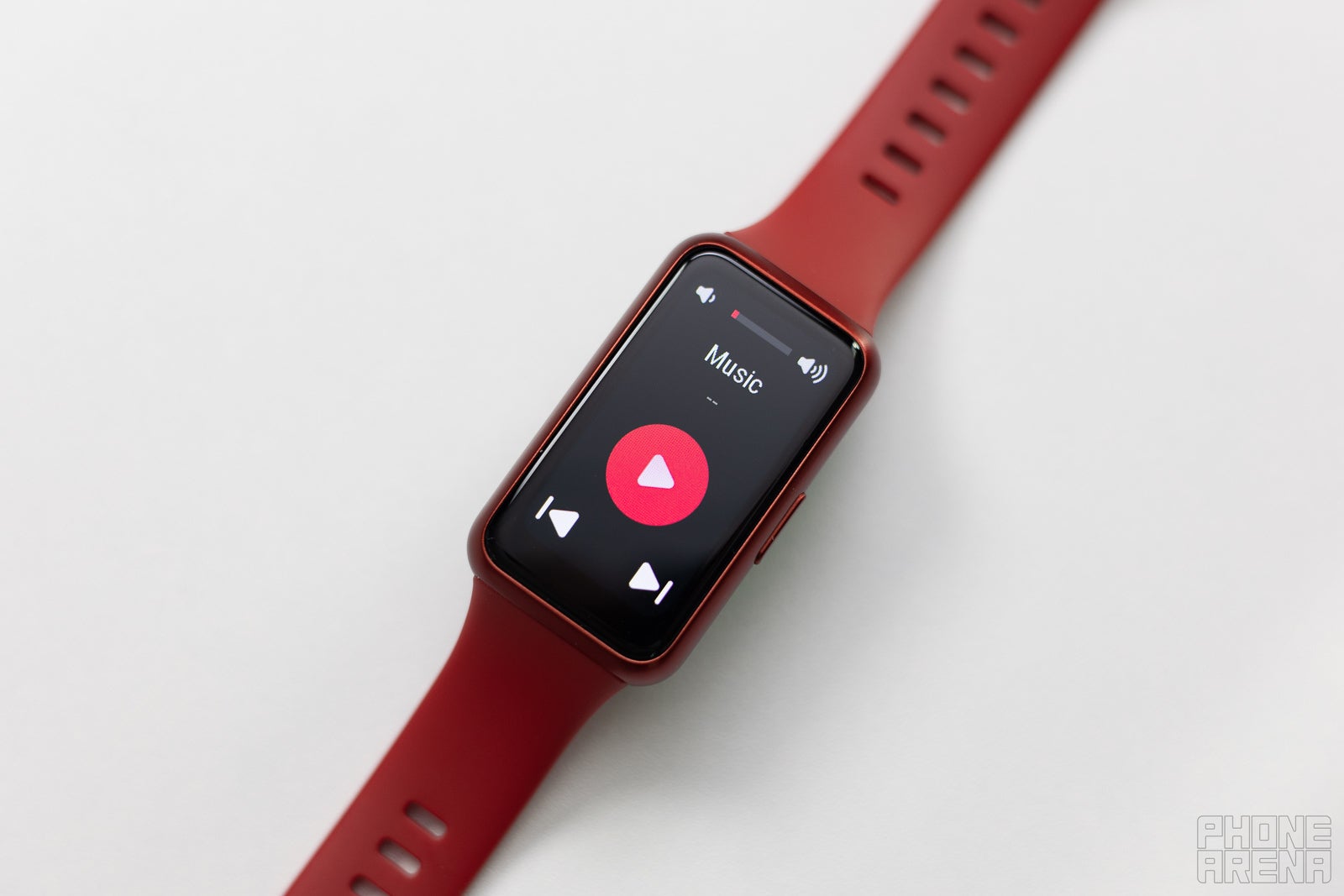 Since it's more on the budget side of things, the Huawei Band 7 doesn't have an ambient light sensor either, meaning that you will need to manually adjust the screen's brightness as needed. Under direct sunlight, it's easy to read the displayed information once the brightness is adjusted to the maximum.

Just like its predecessor, the Huawei Band 7 is water-resistant for up to 50 meters, comes with Huawei's TruSeen 4.0 technology, and offers 24/7 heart rate and SpO2 measuring, as well as sleep tracking and stress monitoring. It also supports 96 workout modes, including Outdoor run, Indoor run, Indoor cycle, Pool swim, Yoga, and Cross fit. The band can also track Karate, Kendo, Roller skating, Darts, Horse riding, Kite flying, Skateboarding, and Auto racing.
Now, on the question of whether the Huawei Band 7's measurements are accurate, I would say that they are, well, mostly accurate. During my tests, I used the Band 7 on my right hand and my
Galaxy Watch 4
on my left hand simultaneously, and in most cases, both devices showed similar step count, heart rate, and distance.
Something I noticed, though, is that sometimes the Band 7 showed a lower amount of burned calories than my Watch 4 during my treadmill workouts. Now, this could be my fault. It is possible that I held onto the treadmill more with my right hand. Due to the lack of movement, the band may have failed to calculate the exact number of calories burned.
Another thing that I noticed is that sometimes when I woke the band up, it needed a few seconds to display my actual heart rate. In these cases, it showed really high heart rate values at first, but then they fell and the band displayed the same heart rate value as my smartwatch.
But let's stop complaining and see what new features Huawei has introduced with its new Band 7.
Always On Display
With the Band 7, Huawei also introduces an Always On Display feature. To activate it, you just need to tap the physical button and go to:
Settings
Display
Always On Display
After that, all you need to do is choose one of the five Always On Display watch faces.
Quick Message Reply
On the Huawei Band 7, you can now reply with quick pre-written messages or reactions. However, this can only be done on notifications from select apps. For example, you can reply to and react to messages received on Facebook Messenger, but you can't do the same on texts received on Instagram. You can add or change quick replies in Huawei's Health app.
Huawei Band 7 Battery and Charging
The Huawei Band 7 comes with a 180mAh cell, and just like the Band 6, Huawei claims that its new band lasts up to 14 days on a single charge with typical usage and up to 10 days with heavy usage.
In our tests, the Huawei Band 7 lasted around six days with three workouts and every feature enabled, including Always On Display. Of course, the band would last longer with Always On Display off, but if you train regularly and keep all the automatic detections turned on, a 14-day battery life will most likely be unreachable.
Now, let's talk about the charging of the Huawei Band 7. The charging cable has USB Type-A on one end and two charging pins on the other that attach to the band via magnets.
In our charging test, the smart band managed to fill its tank from 0% to 100% in around 53 minutes. We also noticed that it reached 80% in about 30 minutes, and from there on, the charging speed slowed down. This is typical behavior — on one hand, the battery slows down as it approaches its full capacity, on the other — manufacturers throttle the charging at that point, to preserve battery health.
Huawei advertises that five minutes of charging will give you two days of usage, and although we didn't test that claim, from what we have seen, we think it's most likely correct.
Huawei Band 7 Processor & Storage
Unfortunately, Huawei doesn't say anything about the processor inside the Huawei Band 7 nor mention specs like RAM and Storage, so we can't give you any raw data. However, we can say that the band works smoothly, without any hiccups. And since you can't upload your favorite Taylor Swift songs on your Band 7, storage capacity is kind of moot.
Huawei Band 7 Connectivity
The Huawei Band 7 supports Bluetooth 5.0, and in order to connect it to your phone, you need to use the Huawei Health app. The band works both with iPhones and Android phones, but your device must be running at least iOS 9.1 or Android 6.0. During our tests, we didn't experience any connectivity problems.
The connection between the phone and the band was stable, and you shouldn't have any disconnecting issues if you decide to buy the new smart tracker. However, we have a small gripe.
It takes ages for the band to install software updates. The download of the update package on the phone is fast, but the transfer of the files from the handset to the band is extremely slow. And let's not talk about the first time pairing experience. It took the band around an hour to update itself to the latest version. An hour!
Also, if you want to go for a run using only your smart tracker and leave your phone at home, then the Huawei Band 7 isn't the device for you. It doesn't have a cellular version or even a built-in GPS. To track your location, the band uses your phone's GPS.
Huawei Band 7 Audio Quality and Haptics
We hate to break it to you, but the Huawei Band 7 doesn't have a built-in speaker and microphone, so you can't make or receive calls or listen to music with it. As for the haptics, well, they are OK. They're nothing special, but they work just fine, and you probably won't miss any notifications because of weak vibration.
Huawei Band 7 Competitors
We can firmly say that the biggest competitor to the Huawei Band 7 is the Xiaomi Band 7. The Mi Band 7 is very similar to the Huawei Band 7 and comes with the same health tracking features but at a slightly lower price. A downside of the Xiaomi Band 7 is that it doesn't offer quick replies, unlike its rival, which does, but only on some apps.
Huawei Band 7 Summary and final verdict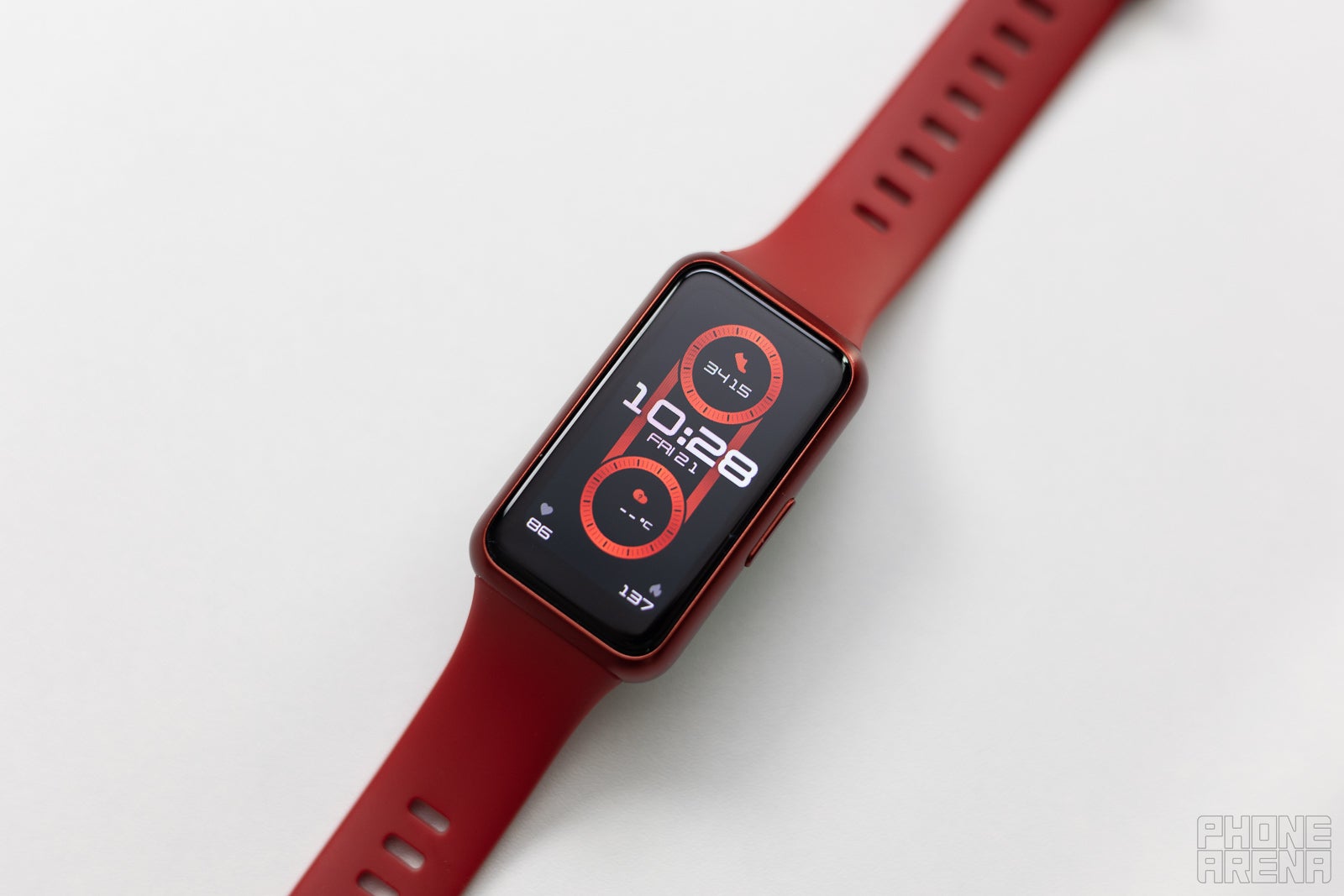 So, what can we say about the Huawei Band 7? Overall, it's a good fitness tracker for its price. Most of the time, it showed information identical to my personal smartwatch. It has a couple of useful features that aren't common for budget-friendly fitness trackers — like the always-on screen.

Yes, it would be even better if it had an ambient light sensor, a built-in GPS, and the ability to quick reply to notifications from all apps, but if you run with your phone and adjust the band's brightness before going out, the lack of the first two things probably won't be such a problem for you. As for the notifications, well, even when you can send a reply, you can't type it in on the band. Instead, you must send either an emoji or a pre-written response. So, it's not even that useful, anyway.
Recommended Stories