Withings Steel HR Sport Review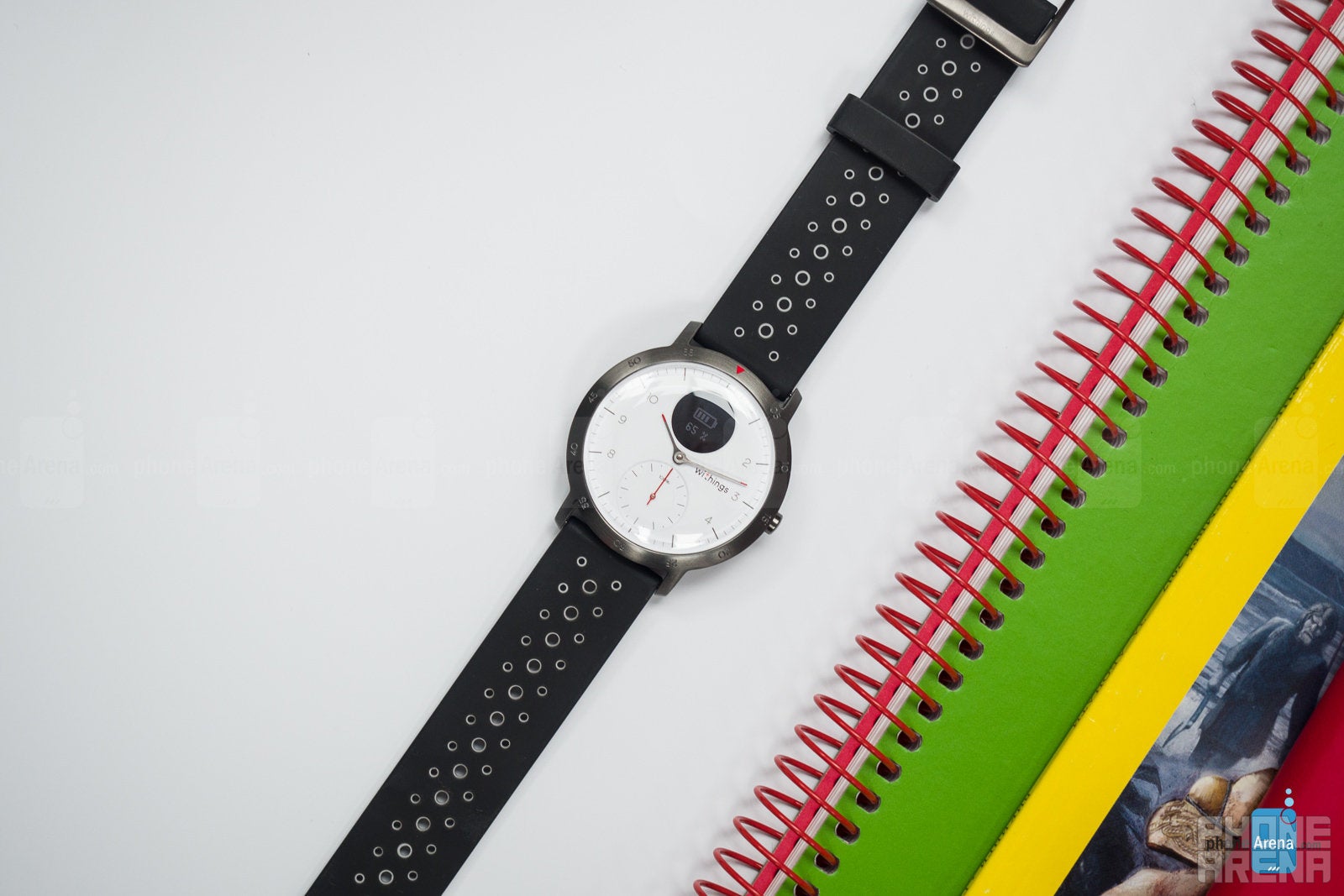 If you are looking for a smartwatch that lasts a really long time, tracks your activity, steps, heart rate, workouts and sleep patterns, while at the same time packing some serious style, it's hard to think of a gadget that fits all those criteria better than the Withings Steel HR Sport.
We've been using this modern hybrid watch for about three weeks now and even though we have our thoughts on quite a few things that could be improved, we don't really want to part ways with it. So what makes this gadget so attractive and will it fit your lifestyle? Read on to find out.
Design and Size
First, let's talk size. The Steel HR Sport is offered in a 40mm version that looks great on average to smaller-sized wrists, but might look a bit tiny if you have a really big wrist. Unfortunately, there are no other size options to pick from.
The construction is high-quality stainless steel with a rounded belly that sits very comfortably on the wrist, even if you'd be wearing it for days on end. The watch kind of sinks in the wrist and appears even thinner than it is, a welcome change from most other smartwatches on the market that are bigger and bulkier.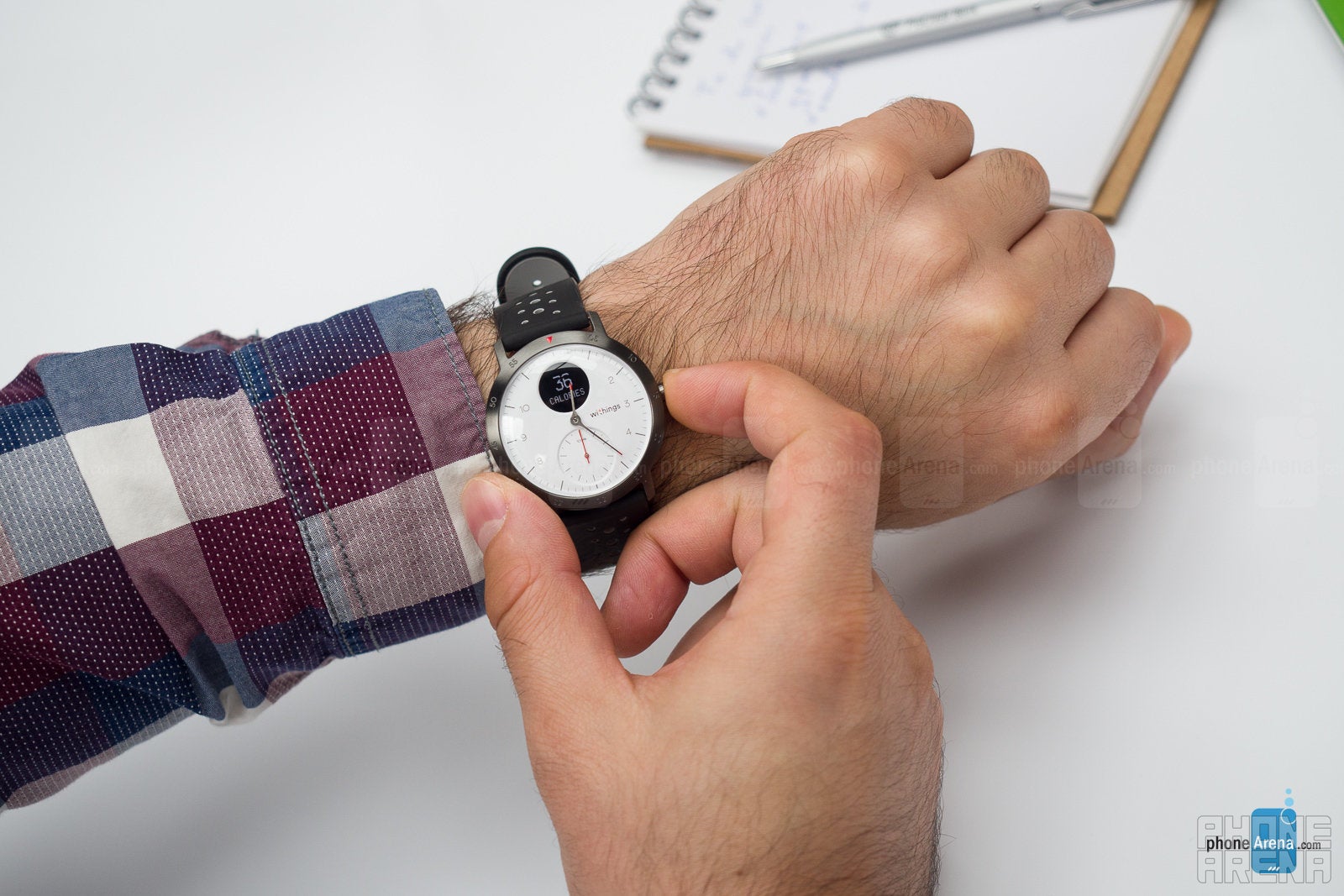 You do get to pick between a white and a black color for the watchface. We have the white model up for review and while we love the overall classic styling, we find the esthetic just a bit spoiled by the black digital screen in the upper part that contrasts strongly with the white on the rest of the watchface. The watch hands here are too tiny and are not fluorescent, so they kind of get lost and it's hard to see the actual time when they hover over that digital screen. We really wish Withings made these hands bigger and easier to see.
You also have a secondary dial on the bottom that measures your progress towards a set goal of steps for the day.
Also, the watch automatically syncs the time with your phone, so you don't have to do this manually (you only have to calibrate the hands of the watch once when you set it up).
Straps
The Withings Steel HR Sport ships with a perforated silicone band in the box. This is a standard, 20mm band that uses traditional pins, so you can remove it and replace it with any other 20mm band super easily. We found this band to be pretty comfortable and durable in our testing, but it wasn't quite perfect: since it was so rubbery, it was actually hard to get it through the rings and it was also a bit too long on our wrist. While other smartwatches come with different-sized bands, you only get this one size in the box, which might not fit you perfectly.
Luckily, there is an infinite choice of 20mm bands out there, so you can pick a different one that will fit you better easily. We tried a standard 20mm leather band and it added extra style points to the watch and felt more comfortable. Withings also offers a few other silicone bands of its own ($30 apiece), as well as a black and brown leather bands ($50).
Digital screen and Notifications
This being a hybrid watch, you have a tiny, rounded digital screen that shows you the date and time in digital formats, your steps, alarm, distance, battery level and heart rate (you can customize the order and add a few other digital complications). You turn the screen with a single press of the crown on the side, while a long press brings up the workouts menu where you pick your activity and long press again to start real-time activity tracking on the watch. But you don't need to as the watch also supports automatic activity tracking.
In fact, you could easily forget the watch even has smart features at all. And that's certainly what happened in our case. All the stats and data quietly sync to the Withings Health Mate application (the app is available on both iOS and Android), so we ended up looking at that app every once in a while rather than dealing with the tiny watch screen.
This tiny screen also lights up when you get an incoming call, notification or calendar event. Notifications from your apps also come through, but they are turned off by default and you would need to go into the Health Mate app to enable the apps you want to receive notifications from on your watch. The obvious issue with notifications is the tiny size of the digital display, which doesn't allow for much text. You get just a few tiny bits of text scrolling, so it's definitely hard to read longer notifications. We also noticed that strangely, calls from our contacts came through, but the names of the contacts were often not recognized and we couldn't tell who was calling us, which is a bummer.
Heart Rate Tracking
One thing we were curious to test was the heart rate monitor. This one was a bit tricky: readings were mostly accurate, but sometimes when we looked up our heart rate during exercise the initial number we got was not the right one, and then a few moments later the reading would adjust, and sometimes it would be an instant jump from a false 120 bpm reading to something like 90 bpm, so a very big difference. Later, when we checked the activity breakdown in the app, it seems that those fake readings were filtered out and you get a very nice overview of your heart rate with breakdown by zones of moderate to intense training.
The list of activities you can track include running (with connected GPS), as well as cycling, swimming and sports such as basketball and more. Don't expect, however, to see a detailed breakdown of your every lap in the swimming pool, your every stroke and the time you took to rest between laps. This is something that other pricier trackers like the aforementioned Apple Watch excel at.
Fitness Level
Running is the one thing that this watch is really good at tracking. After a run, you will see the watch give you your Fitness Level assessment, a number that it produces by measuring VO2 max. What does this mean, though?
VO2 max is basically one of the best measurements of aerobic health. It is a measure that tells you the maximum rate at which you breathe oxygen from the air and then deliver it to the lungs, which in turn bring it into your bloodstream and make it available for your muscles. One interesting fact is that the American Heart Association (AHA) argues that it should be set as one of the most important "vital signs" that should be monitored every year by your doctor.
Here is the deal, though: measuring VO2 max in the traditional way involves a pretty direct measurement of the oxygen you intake while you exercise. Of course, there is no reasonable way to do this outside of a fitness lab and definitely no way to do this on a smartwatch like the Steel HR, so what this watch (and a few others like the Garmin Forerunner series) do is that they estimate VO2 max by measuring the relationship between your heart rate and pace of running. For an accurate estimation, you would need to run for at least 10 minutes and then you could get a reading.
Sleep Tracking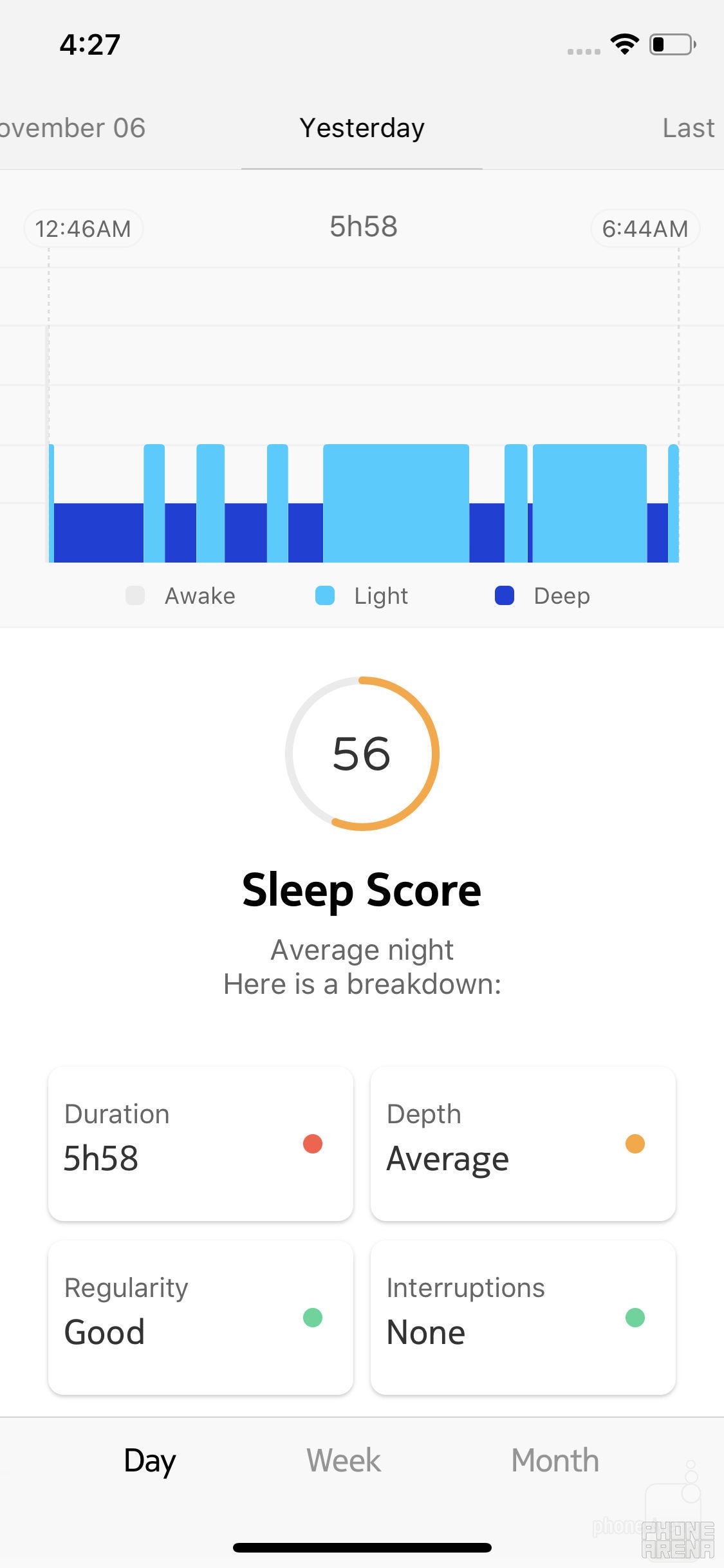 The Steel HR Sport is also capable of tracking your sleep, and while we usually hate sleeping with something strapped to our hands, we tried it for a few nights anyway. We got to see a very nice breakdown of our sleep cycles as well as an overall sleep score that told us how well we had slept, based on the time duration and the amount of deep sleep that we got.
One thing we noticed with sleep tracking was that the watch sometimes had trouble getting the wake-up time right. Errors also included counting two hours of awake time as sleep. You can easily adjust the numbers in the app later, but it's not something that a user should have to deal with, so again, sleeping tracking is something cool and useful, but maybe not always 100% precise.
Battery Life
Last but definitely not least, the Withings Steel HR Sport is an absolute beast in terms of battery life, and we can't be happier not having to deal with another device to charge every night. In fact, the battery life of the Steel HR Sport is best measured in weeks rather than days and nights! In our use, which included less exercise than our busy usual graphic, for nearly three weeks the watch battery fell from 83% down to 30%. This means that you could easily get more than a month of battery life, and if you workout more, still expect to see the battery go for about three weeks or so.
This is incredible. The only downside to having such a long-lasting battery on a watch is that you tend to even forget where you left the charger.
Speaking of the charger, it is a magnetic cradle with a standard USB connection that plugs into all typical USB ports or wall chargers (there is only the cradle in the box, but no actual wall charger with it).
We did not measure the full time it takes to charge the phone from 0 to 100% for the simple reason that we could not drain the battery in the time of our testing (which is quite amazing), but we can tell you that charging is lightning fast: within about 15 minutes of placing the watch on the charger, it recharged from 30% to about 60%!
Price and Alternatives
At a retail price of $200, we think that the Withings Steel HR Sport is priced very well. After all, this is a solid smartwatch that works for weeks and is likely to serve you for a long time.
So what are your alternatives? It really depends on what you are looking for. If you are after a hybrid smartwatch, there are a few alternatives like the Skagen Hybrid lineup, but all of them are gigantic watches that are nowhere nearly as elegant and comfortable as the Steel HR Sport.
If, however, you are looking for more detailed and accurate tracking, while still having a watch with great battery life, the Garmin series of watches like the Fenix and Forerunner are excellent choices (although they also cost two or three times more).
If you want a watch with a gorgeous, color screen, the
Apple Watch Series 4
or
Samsung Galaxy Watch
are the two best options around, and you can read more about each of them in our in-depth reviews.
Conclusion
Summing it all up, the Withings Steel HR Sport is a stylish watch with incredible battery life measured in weeks rather than days, and it's a good watch for runners, but maybe not quite the best if you want super detailed tracking for other sports and it's not the perfect notification sidekick.
At its $200 price, it's an excellent buy and one we can easily recommend.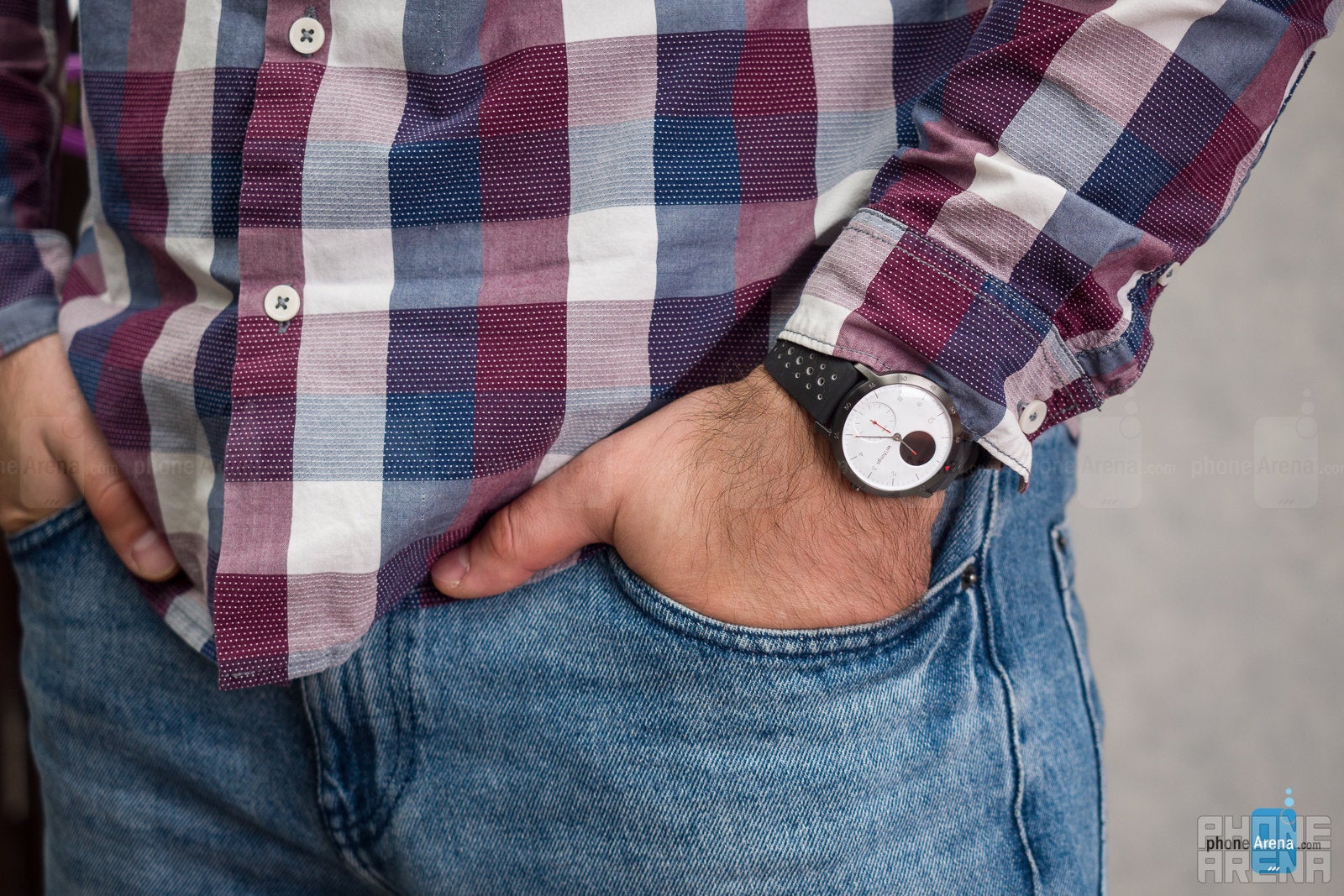 Recommended Stories