Sony Xperia Z1 Compact vs Apple iPhone 5s
59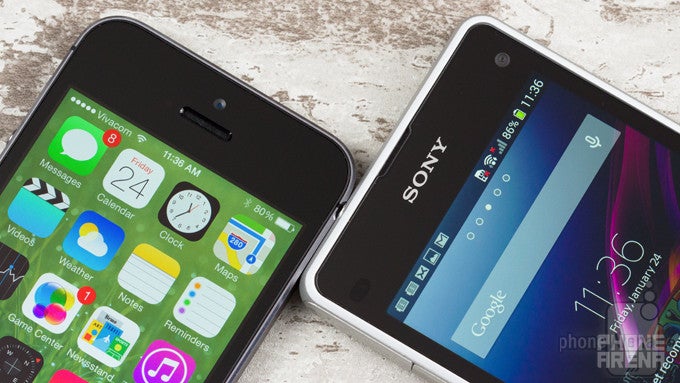 Introduction
High-end Android smartphones have been successfully competing with the iPhone for quite some time now, but despite their undeniable popularity, there's one ubiquitous differentiating feature that sticks out like a sore thumb – each and every recent Android flagship has tried to target a slightly different audience than the typical iPhone crowd. With their massive screens and excessive focus on hardware prowess, devices like the
HTC One
,
Galaxy S4
and
LG G2
have always been cherished by the slightly more geeky part of society. The same goes for Sony's full-size flagship – the
Xperia Z1
, which is especially imposing with its dimensions.
What could this particular market situation mean? Well, we could read this as a way for Android manufacturers to avoid competing directly with the iPhone, but why haven't they even tried to produce a smaller device with the same powerful hardware that they usually bestow upon their creations? Sure, there are the 'mini' versions of the Galaxy S4 and the HTC One, but those phones are significantly weaker than their high-end brethren. Time and time again, we've asked for an Android flagship of great strength and easily-pocketable dimensions, but our requests have remained unanswered. Luckily, here comes Sony with the
Xperia Z1 Compact
– an ambitious handset of iPhone-like size that not only takes advantage of Sony's beautiful OmniBalance design, but also of the latest and greatest silicon that's available to Android manufacturers. It's a phone that we're extremely excited about, so what better way to say what it's made of than to pit it against the king of compact smartphones itself? Ladies and gents, prepare to witness an epic struggle of compact proportions: Xperia Z1 Compact vs
iPhone 5s
!
Design
The Sony Xperia Z1 Compact has a great design language, that's actually reminiscent of the iPhone 4/4s. With its flat front and back sides, made of glass and plastic, respectively, held together by a sturdy metal frame, the Z1 Compact looks and feels great. However, the busier design, with numerous port and slot covers, doesn't allow the Z1 Compact to elevate itself to the clean and stylish industrial design of the iPhone 5s. The significantly thinner profile of Apple's handset, as well as its overall cleaner look makes it appear just a bit more premium in the looks department. Anyway, the trade-off isn't really big, and in exchange for a slightly thicker handset, you're getting quite a few niceties with the Z1 Compact, such as a microSD card slot, and easily-accessible SIM card slot, a dedicated camera-shutter key, and, of course, water-resistance!
Not that the Z1 Compact's construction isn't of high quality, but the iPhone 5s is simply unsurpassed in this respect. You can tell that the 5s is going to be the more expensive device just by pressing the physical keys, like the volume rocker and the power key. On the iPhone, these buttons have a nice and clicky feel, while on the Z1 Compact, their movement isn't so well-defined.
In terms of dimensions, the Z1 Compact (5.00 x 2.56 x 0.37 inches) is very close to the iPhone 5s (4.87 x 2.31 x 0.30 inches), although it's a bit wider and, as we said, thicker. The slightly bigger size of the Xperia doesn't make it more uncomfortable to hold or operate with, so users who aren't into big smartphones can rest assured that both devices are almost equally small.
As we said, in addition to the bonus features of the Compact, such as microSD card slot, Sony's handset is also water- and dust-proof (IP58), which is something that the iPhone 5s can't offer. However, Apple's device does feature an excellent fingerprint sensor, which can make your device very secure and easy to unlock (by you) at the same time.
Display
We're happy to see Sony using IPS LCD tech in the Xperia Z1 Compact. Unlike the screens used in its previous devices, this one actually has livelier colors, while viewing angles are finally reasonably good. The 720p resolution results in a slightly higher pixel density (clarity) of 342 ppi, compared to the iPhone 5's 326 ppi. That's despite the fact that the Z1 Compact also has a slightly larger screen (4.3 inches), which makes it a bit more desirable than the iPhone's 4" panel.
That said, if we have to compare these screens in terms of pure quality, the one of the iPhone 5s proves to be better in a number of areas. Maximum brightness is one of them, as Apple's finest can shine with up to 580 nits, while the Z1 Compact manages to reach the still-respectable 515 nits. In addition, the 5s can get dimmer, which is helpful when you want to read something in the dark, while its gamma is also more accurate (2.2 for the 5s versus 2.6 for the Z1 Compact).
It's once again a matter of trade-off with these displays, as the one of the iPhone 5s is considerably better, but the larger size of the Z1 Compact is a definite advantage that shouldn't be overlooked.
Display measurements and quality
Recommended Stories