Sony Ericsson W995 Review
7

This is a global GSM phone. It can be used with AT&T and T-Mobile USA. The American version supports AT&T's 3G network.

Introduction
:
There are always things to the Walkman lineup that surprise us. On one hand, most devices come with cool, upbeat design, offer entertaining functions (ShakeMe, SenseMe) and comfy interface. On the other, they lack 3.5mm jack (so an adapter is needed) and have mediocre video playback capabilities. The flagship, the Sony Ericsson W995 is designed to turn these views upside down.
We finally have
3.5mm jack
on a Walkman device and it´s located on the top side of the phone. Despite it, the boxed earphones are still plugged into universal port (for cable, charger, earphones), but you get a 3.5mm adapter with the set. What you will also get with the phone is 8GB expansion card, wall charger, USB cable, manual and software CD.
Similarly to the
Sony Ericsson W705
, the phone looks stylish, presentable and buttoned-down. Both its front side and battery cover are made of metal and sport nicely looking brushed pattern that is, however, hardly noticeable on the black handset we are reviewing. Still, the W995 also comes in silver and red varieties.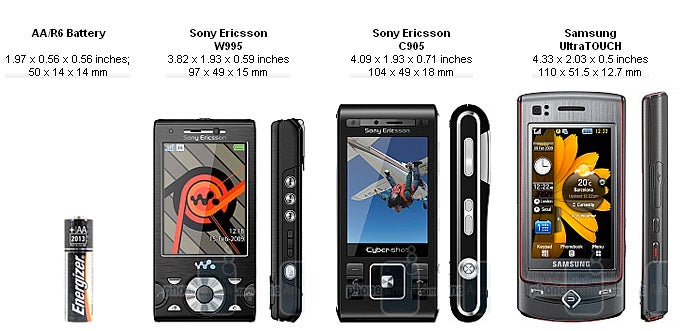 You can compare the
Sony Ericsson W995
with many other phones using our
Size Visualizatoin Tool
.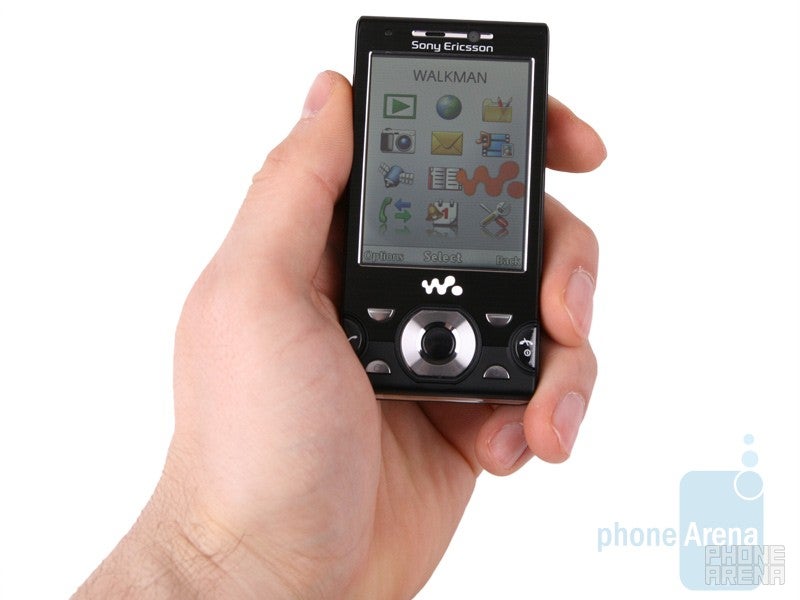 The display looks pleasing with its 2.6 inches.
Display looks pleasing with its 2.6 inches. This is a feature Sony Ericsson has definitely improved on alongside of the previous models – all of them have smaller ones. Resolution, however, remains the same – QVGA and the screen supports 262k colors. No matter, image quality is really good. Thanks to the light sensitivity sensor, display is usable even in bright light, although colors get rather worn-out.
As a whole, we do not have any gripes relating to the
navigational buttons
or the keypad. They are prominent enough and easy to use. Send and end buttons are a bit harder to press, because they have small travel. Volume rocker, audio player and camera shutter that are on the right hand side of the phone are also fine. We are once again pleased with the lighting effects that Sony Ericsson have integrated – starting the phone audio player makes controls light up in orange, while camera shutter begins to glow in white when you get down to taking pictures.
There is a pair of quite big
loudspeakers
on the top and bottom sides that, by the look of them, should be able to provide high quality sound. The back houses 8.1-megapixel camera with photo flash and expandable video stand and a M2 expansion card slot is located under the battery cover. The video stand is unsteady and even light shakes or sways can cause the phone to tumble over.
Sony Ericsson W995 360 Degrees View: Recommended Stories