Samsung Galaxy Tab 3 8-inch Review
38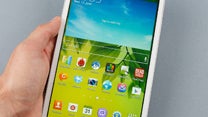 Introduction:
The third generation of Galaxy Tab slates consists of three tablets of different sizes, and the
Samsung Galaxy Tab 3 8-inch
is the middle child in the family. It is an Android 4.2.2 based tablet that fits perfectly in the mid-range category – with an 8-inch touchscreen, 1.5GHz dual-core processor, 1.5GB of RAM, and a 5MP auto-focus camera to top it all off. But hardware specs aren't all that this device has to grab our attention with. The 8-inch Galaxy Tab 3 actually stands out with being pretty light and portable for its class. But ultimately, is it worth getting? Read on to find out!
Design:
To the surprise of no one, the Samsung Galaxy Tab 3 8-inch is visually quite similar to the
Galaxy Note 8.0
and the rest of the members in the Galaxy Tab 3 family. And that's okay, of course, as that's how a brand's consistency is maintained. The tablet is made of glossy patterned plastic that, thankfully, doesn't have a tendency to slip out of the user's hand. The typical for Samsung devices metal-like band around the sides is present as well. Overall, the Samsung Galaxy Tab 3 8-inch looks okay for something made of plastic, although it won't really wow anyone with its looks.
Portability-wise, Samsung has done a great job at making the 8-inch Galaxy Tab 3 as easy to carry around as possible. For a device sporting a display of that size, the tablet is very slim, very light, and very comfortable to hold with a single hand. The super-slim bezel is partially responsible for the latter. In fact, this has to be the thinnest bezel we have ever seen on a Samsung tablet to date. The downside to this, however, is that one has to be careful not to have their thumb too close to the screen as it will register as a tap.
We have Samsung's traditional button arrangement applied to the Galaxy Tab 3 8-inch, with a physical "Home" key, accompanied by capacitive "Back" and "Menu" keys. On the right side of the tablet are positioned the power button and the volume rocker. They are both slightly raised, which makes them easier to locate and operate.
Display:
The
8-inch LCD touchscreen
on this Samsung Galaxy Tab 3 model has a
resolution of 800 by 1280 pixels
. Yeah, we know that's far from impressive, but such pixel density (184 ppi) is typical for tablets of that size. The screen is usable, of course, and gets the job done for any task imaginable, ranging from reading books, surfing the web, or watching video, although pixelation is easy to notice throughout the interface.
Color representation is on the neutral side, but users who are more into vivid colors are free to adjust the screen mode via the Settings menu. In addition, Samsung has thrown in Adapt Display – a feature capable of fine-tuning the images on the screen depending on what's being displayed, and Reading Mode, which is available in some apps, making text easier to read.
Using the Samsung Galaxy Tab 3 8-inch outdoors may be a challenge. However, the brightness of its screen isn't to blame. It is just that fingerprints stick to the screen's surface easily reflecting the sun's light, and wiping them off is easier said than done. Cleaning its surface noticeably improves the display's outdoor visibility.
Recommended Stories