Samsung Galaxy Stratosphere II Review
5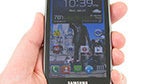 Introduction:
In a world where large-screen smartphones dominate the scene, it's nice to see there is still a selection of moderately sized devices that feature a physical QWERTY keyboard. As one would have it, the new
Samsung Galaxy Stratosphere II
takes the reins from the original Samsung Stratosphere, which came out near the end of 2011. Though the Galaxy Stratosphere II has a few other devices to compete with, namely the
Pantech Marauder
and
Motorola DROID 4
, it still manages to fit nicely in the group while offering a good selection of features.
Included in the retail package is the Samsung Galaxy Stratosphere II i415 smartphone, 1800mAh battery, wall charger with microUSB cable, and user guides.
Design:
It is clear that the overall design and appearance of the Samsung Galaxy Stratosphere II draws on elements of other Galaxy models; with smooth curved edges, sleek lines, and a glossy plastic exterior. This combined with only weighing 5.43oz, allows the Galaxy Stratosphere II to be held quite comfortably for periods of time. Though we do wish the battery cover was textured like on the original Stratosphere for a secure grip, as the one on the Galaxy Stratosphere II can feel slippery.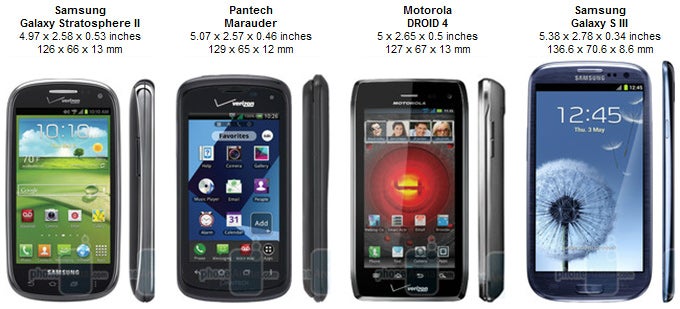 You can compare the Samsung Galaxy Stratosphere II with many other phones using our Size Visualization Tool.
Display:
Even though the body of the Samsung Galaxy Stratosphere II has been updated from the original model, it appears to be using a similar display, as the specifications have not changed. It remains a
4" Super AMOLED screen with WVGA 480x800 pixel resolution
, which allows for saturated colors, good contrast, and deep black levels. While this is good for the most part, it still suffers from some pixelation and jagged edges when viewing small text. It would have been nice if a higher resolution Super AMOLED screen was used instead, such as qHD, as that would pretty much solve the pixelation issue.
QWERTY Keyboard:
When opening the keyboard on the Galaxy Stratosphere II, you can still feel (and hear) it stick and catch on the keyboard's buttons, something that was present on the original Stratosphere. Though once opened, you are presented with a nice
5-row keyboard layout
with dedicated number keys across the top. In fact, the only difference between the keyboard on the Galaxy Stratosphere II and first Stratosphere is the removal of the menu, home, search, and back function keys on the sides, but in doing so it allows for a slightly larger keyboard. We had no issues typing on the keyboard with the Galaxy Stratosphere II, as the buttons are a nice size and have some space between them, though the keyboard on the Motorola DROID 4 remains a bit larger and with a more premium look and feel to it.
Samsung Galaxy Stratosphere II 360-Degrees View: