Samsung Galaxy S4 vs HTC One
99+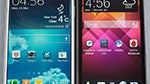 Introduction
This is it, the most epic Android face-off for the first half of 2013. The
Samsung Galaxy S4
and
HTC One
are coming out at about the same time to go ahead and have it out with one another. When the Galaxy S4 and One are in the same room, there sure ain't much love in the air, which is going to make this fight all the more interesting. Which side will you take? Wait till you've read our comparison!
Design
Isn't it obvious? The Samsung Galaxy S4 and HTC One have a completely different understanding of design. On one hand, we have the light, plastic body of the GS4, and on the other – the heavy, metal one of the One. Both have their pros and cons. The Galaxy S4 certainly doesn't feel like a premium smartphone, but is light, compact and comfortable to hold. In contrast, the HTC One has that expensive feel to it, but is bulkier and not as comfortable to use.
Overall, though, it shows that HTC has paid much more attention to the design of its product. The One has an impressive appearance and every small detail like the physical buttons function like they are part of a quality, expensive product, which they are. Meanwhile, the Galaxy S4 has a blander appearance and none of its physical features manage to be particularly exciting, with the sole exception of the fact that Samsung has managed to fit such a big display in such a compact phone (for today's standards).
Display
Speaking of displays, both devices are equally impressive in this respect. On one hand, there's the enhanced Super AMOLED screen of the GS4, with its high contrast and lush colors, and on the other – the Super LCD 3 display of the One, which is more natural and also quite vibrant. The HTC One is also more visible when used in bright daylight, thanks to its higher brightness. Viewing angles are very good on both devices, but we seem to prefer the HTC One, as it retains the normal tones of its colors, whereas the Galaxy S4 is quick to degrade color quality as we start to tilt the handsets.
At 5 inches, the Galaxy S4's display is slightly bigger than the HTC One's 4.7 inches, but the difference isn't really that noticeable. Activities such as video watching are super-entertaining on both handsets.
Display measurements and quality
Samsung Galaxy S4 360-Degrees View:
HTC One 360-Degrees View:
Recommended Stories